- photograph by Danny Clinch
SPIN THE BLACK CIRCLE
As hard times come again once more, Bruce Springsteen navigates the ruins and, taking his best shot, imagines a way forward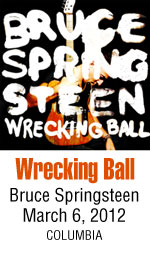 First, the ground rules. I am generally skeptical when an artist's new work gets touted as anything except what it is: new work. Everyone hears it differently. In this essay, I'll throw in my two cents, maybe raise your bet, or fold. But Wrecking Ball has to show its cards, and its hand is the only one that counts.

Second, I'll studiously avoid taking sides in what we'll generally refer to as "elements of modern American capitalism" vs. "Occupy Wall Street." I would imagine that many reviews will attempt to shoehorn Wrecking Ball into some neat little box where the two sides can go at it — may the better one win. I'll trust the art to offer a vivid assessment, the artist to be vigorous in his interpretation, and the music to sound compelling.

Third, I'm completely uninterested in arguments that Bruce Springsteen, by now a multimillionaire many times over who could have retired to a horse farm or arugula farm or funny farm or whatever farm he wanted as far back as 1981, is "out of touch." If that argument ever held water, "American Skin" dispatched it with prejudice in the spring of 2000. No artist who is "out of touch" puts work like that on the line.

With that, let me say that the first time I played "We Take Care of Our Own," I was not terribly impressed. As a single, it sounded familiar enough, though a few tweaks might have made it more appealing. Why, for example, after a stomping introduction did the first verse fall off a cliff? And rivers go dry as a bone, not roads. I wasn't moved by a declarative title that sounded hollow. So after a few listens, I put it aside, figuring that I might like it more when I heard it alongside the rest of Wrecking Ball. Then something unusual happened: for a song that seemed to sag under its own weight, I couldn't stop thinking about it. That, along with Christopher Phillips' beautiful essay on Backstreets.com ("Heck of a Job, Brucie," January 19, 2012), served as signals, and I realized that Bruce Springsteen had thrown a curve.

That's perhaps the only irony on Wrecking Ball, an 11-song epic that finds Springsteen examining a society, its people, circumstances, and values (and yes, its sounds) with efficiency and eloquence. While the sound is modern, the topics really aren't: how people act in times of desperation, what binds and divides, and why — these aren't unfamiliar questions; Springsteen has asked them many times. But this time things feel different. The music sounds different, too. Springsteen was correct when he characterized the album as one of his more direct works. The songs hit the mark with ease. That's due in part to new production techniques, the presence of folk, gospel, hip-hop, and electronic music, and some well-deployed samples.
The E Street Band, which Springsteen once called "built for hard times," largely sits this one out. Wrecking Ball is neither a rock record nor a solo record, however: the credits reveal that Springsteen assembled an enormous and gifted supporting cast. That sense of community emboldens the music. It's big, it's diverse, and even though Springsteen occasionally falls back on familiar phrases or elements, Wrecking Ball sounds unlike any other Springsteen album. If he started from a whole new place, he got to a whole new one, too — listening start-to-finish points to the likelihood that he assembled this collection of songs in a completely different way than anything that has come before.
Wrecking Ball, generally speaking, takes as its subjects the people run down by the worst recession in America since the 1930s. Early reports characterized it as "angry" music. But sadness and regret seep through more often. (This is the part of the review where I'm supposed to write that there's hopefulness, like some writers did in 1982 about the end of Nebraska, where Springsteen shrewdly placed a song called "Reason to Believe." This time, that hope actually appears on "You've Got It" where, in a righteous 20th anniversary prequel to "All or Nothin' At All," you think someone might get laid.)

But Springsteen isn't fucking with anyone when he lays out his songs, framed by the conviction that all this has happened before, and it will happen again. And again. And maybe a time or two after that. (This is the part of the review where I write about my love for the re-imagined Battlestar Galactica, a human drama that takes place in outer space (but isn't quite science fiction) and explores precisely the same ideas as Springsteen does on Wrecking Ball. One episode features a stellar interpretation of "All Along the Watchtower" that makes me imagine Springsteen watched all four seasons, took good notes, and went to work. So say we all.)
As the man sings, "Hard times come and hard times go, and hard times come, and hard times go… just to come again." That Springsteen crafted an album around "Wrecking Ball," debuted on tour in 2009, is remarkable; that he didn't rewrite it for the sake of relevance (save for when he sang it in Philadelphia, where "cheesesteaks grow as big as airplanes" and "Dr. J. played the game") even more so. But he didn't have to. Springsteen has written with dual purposes in mind for a long time. "Wrecking Ball" has the elasticity to be a farewell to Giants Stadium (and the Spectrum, too) and to form the central metaphor here. A wrecking ball typically makes way for something new, and that was its role in the song's original form: look forward while honoring the past, and be resilient as time marches on. It's a short walk from there to being in the path of a big, unwieldy force that wreaks havoc and ruins lives. Wrecking Ball brims with tales from those moments, when unforeseen disruption has upset the normal course of growth and decay.
"We Take Care of Our Own" works better as the lead-off track than it does as a standalone single (it's a context thing, really, and for the dear reader who's new to all this, the context thing is something that seems to obsess Springsteen to no end). A listener can easily trace back much of what follows to this song, and this line in particular: where's the heart that runs over with mercy? There's a glimmer in "Jack of All Trades," wherein a man finds dignity in simple tasks, then contemplates violence. Here, the character's burdens lie bare: first idleness, then a willingness to commit murder, religious underpinnings and a bond with the woman whose roof leaks be damned. We'll be alright, sure enough.
But for a record that Springsteen calls direct, it takes a few songs for that directness to pair up with gravitas. "Easy Money" comes with a storyline that recalls "Atlantic City" and strings borrowed from "Into the Fire" — it's a ready-made, and a tempting one to write off. It borders on the whimsical ("you put out the dog/I'll put out the cat"... really, Bruce?) and is one instance on Wrecking Ball where I hear the result of the Springsteen Song-o-Rama: throw in a little of this, a little of that, press record, and voila: a new song! It feels like shorthand — I was waiting for the guy to go out for a loaf of bread, not robbery — but makes a case for itself nevertheless by juxtaposing two kinds of crime, and coming second in the sequence. Still, on a record as good as Wrecking Ball, "Easy Money" stands out, calling for another go-'round or two in the fabled notebook.

Both "Easy Money" and "Shackled and Drawn" come off as one-dimensional, which is fine: I wasn't expecting treatises on credit-default swaps or mortgage-backed securities blended with some new tale of a Bobby or Mary. But given Springsteen's gifts as a songwriter, I'm surprised that Wrecking Ball doesn't feature more songs that show, rather than tell. Maybe the basics felt sufficient to convey the circumstances of folks out on the town for an evening crime spree, or those who played by the rules and got screwed.
When you're in the Springsteen business, I would imagine that there's an element of weariness to it all (that the voice not only works but also still sounds magnificent after 40 years is beyond me — maybe he's a Cylon?). Take Working on a Dream out of the mix (if it hasn't taken itself out already) and the last four or five albums have tackled some weighty topics, those that by and large have fused themselves to the American conversation, if not the American identity, and probably distorted it, too.
Maybe that's why Wrecking Ball is heavy with Irish music, a forward-march sound nurtured by oppression while evoking nothing but pride and resilience. The lyrics say "death" but the music says "parade" — it's an Irish wake! Whether a conscious extension of "Mrs. McGrath" and "American Land" from the Seeger Sessions, a nod to his own roots, or a hint from the Dropkick Murphys, the Irish sound gives several songs a kick. "Shackled and Drawn" and "Death to My Hometown" aren't exactly straight-ahead rock songs, but the arrangements do plenty of heavy lifting, especially given the storyline of the latter: Mourn, yes (in all five stages, as presented by the Kübler-Ross model of grief, which Wrecking Ball touches on). But pick yourself up, because whatever has ahold of us either isn't done yet or it's coming back for more. And that's only halfway through the record.
It's "Death to My Hometown" where Springsteen sounds most angry. But he still fixes himself with a song to sing, robber barons be damned, as if that were the only thing that was neither nailed down nor taken. And the song reminded me of something that dead bastard Osama bin Laden once said: to destroy America, you must destroy its economy, and never mind how. Has the stroke of a pen proven more destructive than an airplane with a crazy person in the cockpit? Or more damaging to the modern American psyche?

The Rising measured the cost of 9/11, and Magic explored American disillusionment. But neither sounded as bleak as this — "never this down," as the character confesses in "This Depression." Here, there is no song to sing. The only fix comes from connecting with the heart of another person, and that desperate plea echoes to the point where you wonder whether Springsteen is writing the Great American Eulogy. That wasn't the case with other works in the previous decade, and even Nebraska, singularly resplendent in its starkness, didn't seem like an ode to end times.
Nebraska thrived on isolation, for the most part, but Wrecking Ball aims to avoid it. That search for connection is at the crux of "This Depression," and of "You've Got It," which, all its drippy lustfulness aside, is no mere pit stop. It's "This Depression" turned on its head, lighter and more playful (what isn't?), and it's not too far removed from "Open All Night." Now the stakes are higher than simply wiping the windshield and checking the gas. Even the road sign before the exit might just leave it at "Last Chance."
Home (wherever that is, whatever it is) still feels light years away. But Springsteen's writing has always explored transition, and that aspect helps Wrecking Ball find its strongest footing. The last three songs feature characters on the move: wandering, finding a place, then death — a microcosm of life itself. Together the songs form an indivisible trilogy; individually, they stand as a cry for reconciliation and unity, an affirmation of faith and community, and in the last song, "We Are Alive," a reminder of and reunion with travelers from earlier times. The trio forms its own narrative arc within the album's larger one.
The songs also stand out sonically: Springsteen makes the best use of the sounds he commits for the first time to an album (dig the crackle of vinyl, especially at the beginning of the last song). Mind you, this kind of experimentation isn't really new for Bruce; it's new for a Springsteen LP. (If you want to hear experimental modes, both "Missing" from The Crossing Guard soundtrack and "Gypsy Woman" from the Curtis Mayfield tribute All Men Are Brothers qualify more than anything on Wrecking Ball. And "Swallowed Up (In the Belly of the Whale)" sounds like Springsteen knocking on Tom Waits' door.) But the late adopter makes good use, particularly on the beautiful "Rocky Ground." If any Springsteen song has crossover potential, it's this one.
No Springsteen record would be complete without calling on his Catholic upbringing, and "Rocky Ground" is filled with Biblical imagery: a shepherd's call, 40 days and 40 nights of rain, the cleansing of the temple, the promise of a new day. Though the title and refrain suggest a prolonged, up-and-down journey over land where nothing grows, "Rocky Ground" is as resolute as anything Springsteen has delivered. In it we hear the distant echoes of forbears, whether from the Rattlesnake Speedway or the neighborhood where Lena gets her son Charles ready for school. The challenge hasn't changed: in hard times, steel yourself, love one another, and find a way forward. Whether due to its message or just because it sounds so damn good, Springsteen shares the moment, making way for the uplifting voices of both soloist Michelle Moore and the Victorious Gospel Choir. Together they drive the song into a can't-miss place in his 40-year-old canon.
"Land of Hope and Dreams" — taking the old and making it new — sounds just as exquisite, and with the song Springsteen collects on a considerable bet. Other than preparing some type of archival project, reaching back for a song with a dozen years and close to 250 live performances under its belt typically indicates creative exhaustion. That's not the case here: this version jumps, and it serves a good purpose thematically. In this new arrangement, only the melody and lyrics sound familiar. And the saxophone, too: the studio version sounds like it was built around the last great Clarence Clemons' solo we'll hear, and it's a wonderful contribution. Thank you, Big Man.
Sweet souls departed: that's the note that ends Wrecking Ball, six feet under and scratching at the earth, then ushered not to an eternal reward as we might imagine it to exist, but to take up the fight alongside the living — "shoulder to shoulder and heart to heart." Backed by a cheery mariachi tune, Springsteen takes on mortality with grace, casting those who've paid the ultimate price for the American Dream (even though they didn't reach it) as a posthumous rooting section. Life ends, but dreams don't, and neither does the opportunity for progress and redemption. That's integral to the deeper patriotism Springsteen has talked about before. And if you take the man at his word, he will again.
- Jonathan Pont - March 6, 2012
This review will appear in print this month in Backstreets Magazine #91.
Subscribe now!