Interview by Harrison Howe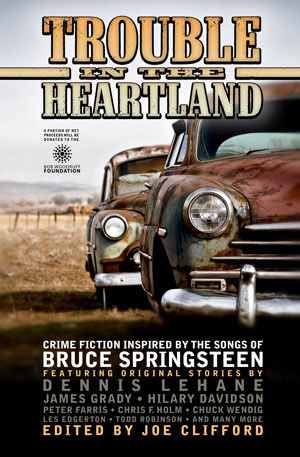 Pardoning the pun, you could say that noir is no mystery to Bruce Springsteen.
In a 2010 interview with BFI's Adrian Wootton at the UK premiere of the documentary The Promise: The Making of Darkness on the Edge of Town, Bruce Springsteen discussed his inspiration for the album: "Noir was particularly interesting to me because it's a world where people are always being pulled apart.... so a lot of Darkness on the Edge of Town is straight out of a noir title." He even mentioned such well-known noir writers as Jim Thompson and James M. Cain.
While Darkness may be the best representation of the Bruce/noir conjoining, other albums and songs obviously draw inspiration from this genre: Nebraska comes instantly to mind, of course, as do several songs from Born to Run ("Night," "Meeting Across the River"), The River (the title track, "Point Blank," "Stolen Car"), The Ghost of Tom Joad ("The New Timer," "Straight Time," "Sinaloa Cowboys"), and Devils & Dust ("The Hitter," "Matamoras Banks").
Ask a bunch of crime fiction writers to draw inspiration from Bruce's discography — as editor Joe Clifford did — and you'll find that noir inspiration lurks under the surface of any of his work.
Just released by Gutter Books, Trouble in the Heartland: Crime Fiction Inspired by the Songs of Bruce Springsteen is a nod to the noir in Bruce's work, from many of the top names working in the field. And it's certainly a collection of stories where people are "pulled apart"... and dragged right down into the gutter.
For Backstreets, Clifford took some time to talk with another writer and editor, Harrison Howe, about his new anthology, his life, and all things Bruce. The two share very particular common ground: in 2010, Howe published Darkness on the Edge: Tales Inspired by the Songs of Bruce Springsteen (PS Publishing), an anthology of horror/mystery/fantasy stories also drawing inspiration from Bruce's vast collection and featuring many of the top names in those genres (including Sarah Langan, Tom Piccirilli, Peter Abrahams, Lee Thomas, James A. Moore, Gary A. Braunbeck and Elizabeth Massie).
First, tell us a little about yourself. What other books have you written/edited?
That might take a while. My novel Junkie Love [a mostly autobiographical novel about a heroin addict] covers most of the "about yourself" part. Suffice to say, I used to be a bad guy. I've written four books (including Wake the Undertaker and Choice Cuts, a short story collection), in addition to the aforementioned JL. My latest, Lamentation (Oceanview Publishing), a mystery, just came out in October.
My life really divides neatly into two categories: dope fiend, and productive, contributing member of society. Trouble in the Heartland isn't the first anthology I've edited, but it's certainly the biggest. I've been drawn to editing since getting off the streets in the early oughts. Through my various college degrees, I always made sure to get in with the literary magazines. To me writing and editing are symbiotic. Working at one makes you better at the other.
How did the idea for this anthology come about?
Chris Leek of Zelmer Pulp [a publishing house specializing in, in its own words: "retro-futuristic, pulp hero, dark crime, monster noir, and neoclassical post-apocalyptic multi-generation uber-exploitive psychodrama"—whew!] had just published "Candy's Room" over at Shotgun Honey. We were hanging around one morning, commenting on it (on Facebook). It's such a terrific little slice of Americana and revenge. I made an off-the-cuff comment in a thread, like, "Hey, we should do a whole collection based on Springsteen songs." And by day's end, we were off and running.
Was it difficult to find a publisher to take it on? For my anthology Darkness on the Edge, I had to explore beyond the U.S.'s borders to land a publisher (PS Publishing in England). Was Trouble in the Heartland a difficult sell?
Originally Zelmer Pulp was going to handle the publishing. Zelmer comprises a handful of noir writers but its resources are a bit limited, and when this thing began to grow I asked the guys at Zelmer if I could bring in Gutter Books (where I work as acquisitions editor). Hard sell? Not exactly. My agent constantly gives me shit for not bringing the project to her. With the names attached, she says she could've sold it to one of the big houses. But we wanted the money to assist wounded vets, so we teamed up with the Bob Woodruff Foundation, which will be receiving a portion of the net proceeds from the sales. Once we got Dennis [Lehane], we were in a good spot.
So many of Springsteen's songs are filled with a sort of hope — that things will get better. Not so much in the stories in your book. Is that one of the ways you sought to go beyond Bruce's work, to present the characters at their very worst and then go downhill from there?
You're totally right about Bruce and hope; it is a driving force of his work. But I think there is hope in these stories. It's just tougher to find. That's the thing with crime and noir. It's not entirely bleak. Just mostly. But you need those cracks and fissures where the light shines through. Otherwise, what's the point? A lot of times noir's heroes — or anti-heroes — aren't going to make good; sometimes it's the supporting characters who take advantage of that hope. But it's there. In fact, I'd say in noir/crime/hardboiled [fiction] hope is even more precious because it's in such high demand and short supply.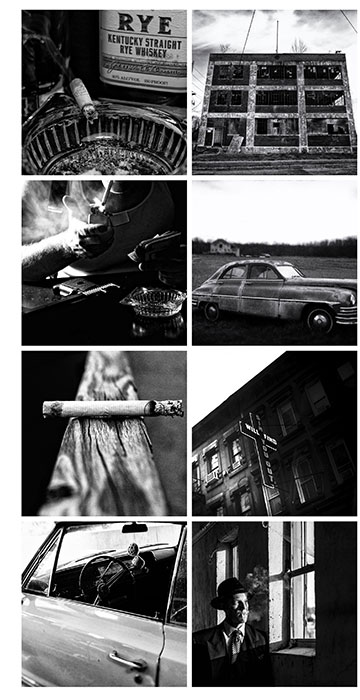 [Right: photographs by Mark Krajnak, whose work is featured inside the anthology]
One of my favorite lines in the book is when one of the characters (in "It's Hard to Be a Saint in the City") is asked whether she likes Springsteen, and she replies, "I'm one wrong turn from being a character in his songs." Pretty much the whole book is filled with characters who have made that turn and more: tramps, murderers, deadbeats... in many respects, the worse-off Bruce portrays in his songs. How do you think the characters in these stories differ from Bruce's characters, or do they?
That's Jen Conley's. Such a great line, isn't it? Part of the fun of this project came in the winks and nods like that. Bruce's lawyers, who were so accommodating, were pretty clear about the legal aspect, what we could and couldn't do. For instance, we were free to use the title and essence but we couldn't, for example, use Bruce's characters. A couple times, and only a couple, I had to go back to an author and say, "Um, this is a little too close to the mark. Can you try again?" Which goes to show just how profound Springsteen's titles are. With nothing but a few words and a song's spirit, our authors crafted wildly original takes. And you're right: these tales are like Bruce's songs/characters on steroids, twisted and pulled to points of near grotesquerie. Yet, still, in spots, that desperation is understated. Which is a testament to the incredible talent in this collection.
I loved the "winks and nods" throughout the book, particularly when a line or idea from one song was used in a story that drew its inspiration from a different song. I myself had a great experience with Bruce's legal people as well, but one main thing was I could not use lyrics. Were you ever skating on thin ice over any of these "winks and nods," or was that entirely permissible as long as they were used within the context of the story?

That was definitely a fine line I had to tread. As the editor I needed to make the decision if a "wink and nod" crossed that line. There was a general understanding with the Springsteen people that to do an anthology like this there were going to be times where we would draw reference or make allusions to Springsteen's lyrics. In this case, I had to go back to the authors plenty of times and be like "Sorry. Too close." Then we'd work out a way to say the same thing without violating our [legal] agreement.
Since Bruce's songs are stories in themselves, did you see a potential problem in trying to tell a different story while maintaining a connection to the source of inspiration?
I didn't write a story for the collection; I always feel like including one of your own stories in a collection you edit is a little like throwing a surprise party for yourself. So you'd have to ask the authors. But from an editing standpoint, I saw very little overlap. You know, as I mention in my intro, I write books, but Bruce Springsteen is probably still my single biggest literary influence. It's why we love him, right? He is more than just a pop singer/songwriter. There's that great bit on the live version of "Growin' Up" where Bruce is talking about how his mom wanted him to be an author. In a lot of ways, that's what he is. Just a title like "Thunder Road" or "Prove It All Night" says so much. Our authors ran with that spirit and didn't look back.
And to follow up on that question: were there any authors who struggled with this? Did you have to reject any stories because they didn't go quite as far beyond the chosen song as you had hoped, or requested?
There were a couple stories where I went back and asked the author to move in a different direction. I don't like using the word "rejected." Writers are sensitive. Well, that's not true — I am sensitive. I like to keep things in the positive, try to coax the best out of rather than shoot down. That said — and I'm not just saying this because I edited the thing — this is a remarkable collection, not a dud in the bunch. Which is saying something when you are talking close to 40 authors. My buddy Tom Pitts [whose "Local Hero" is featured in the collection] and I just went to [the yearly mystery writers conference] Bouchercon, and he made a joke. He said, "You don't put down the Boss in a room full of crime writers." And he's right. Crime writers' reverence for Springsteen is pretty universal.
Are there any particular songs that you had hoped would be represented but are not?
If I had included a story, I'd have gone with "Incident on 57th Street," which is just a personal favorite of mine. Saw Bruce perform that, just him and a piano, back in, what was it? 2004? 2003. East Hartford, Rentschler Field. Just incredible. Of course then you start thinking, "Oh, wait, 'Growin' Up'! No, 'Lost in the Flood'—no, I got it: 'Lucky Town'!" So much room to move.
It must have been quite exhilarating to get a story from Dennis Lehane. How did you land him?
It was. Dennis and I graduated from the same MFA program at Florida International University and had the same advisor — Lynne Barrett, also in the anthology, her "Dancing in the Dark" is another gem — though we didn't go to school together. I've met Dennis a few times at various writers' conferences, but I doubt he could pick me out of a lineup. I did know that the grad school connection gave me a card, however weak, to play. I figured I could try for a blurb (and you can imagine how many people do that), or I could try to parlay it into something a little more… communal. I knew Dennis loved the Boss, and so I reached out with this idea. It was a little touch and go; he's a very busy guy, as you can imagine. But in the end it worked out. And I'll say this. A lot of times in situations like this you can get an A-lister's B-material. After all, it's essentially charity. But not here. Not only did Dennis generously lend us his time and talent; he gives us an evocative, deeply affective work that resonates long after you set the book down. Dennis knocks it out of the park. There's a reason his story kicks off the collection.
Do you have any plans to follow up with another Bruce-inspired anthology? More Trouble in the Heartland, perhaps?
Probably not another Springsteen anthology, but applying the same formula. It's funny, Gutter Books is starting to carve out this little rock 'n' roll noir niche. We've featured several music-based hardboiled stories at outofthegutteronline.com, and next year we'll release The Triangle: The True Inside Story of the World's First Terrorist Band by J. Buck Williams and Broken Heroes by Mike Creeden (who wrote "Something in the Night" for the anthology). Heartland comes along at the right time. We are looking at doing a series of these, with other artists besides Bruce. Probably sticking with the Americana theme. Tom Waits. Johnny Cash. Maybe Steve Earle. There are so many directions you can go.
Personally I think it'd be great to apply this concept to a pure pop star. Like .22: Crime Stories Based on the Songs of Taylor Swift. But getting permission on that one might be a tougher sell.
That's for sure. I had the half-serious idea to follow up my anthology with something like What Scares Me and U2: Tales of Terror Inspired by Bono. Talk about a hard sell! Anyway, thank you for your time, Joe. I hope this anthology does well, not just for the sake of the Bob Woodruff Foundation, a great cause, but also because it's a fine collection of stories and it needs to be read by Springsteen fans and lovers of noir alike. I highly recommend it. Anywhere we should point people for more on yourself or the anthology?
You can find the latest updates on my website, joeclifford.com.
A portion of the proceeds from this anthology benefit the Bob Woodruff Foundation. Trouble in the Heartland: Crime Fiction Inspired by the Songs of Bruce Springsteen is available now from Backstreet Records