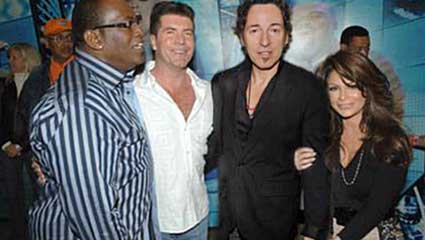 VCR ALERT: IT'S "BRUCE WEEK" ON AMERICAN IDOL!
Springsteen coaching singers, to perform Wed. night
As American Idol moves to whittle their contestants down from the Top 9 to the Top 8, the theme of the week will be Springsteen, with all singers choosing a Bruce song for the upcoming round. The Boss follows previous "theme week" guests Stevie Wonder and Barry Manilow, and like them, will perform a song on Wednesday night's elimination show.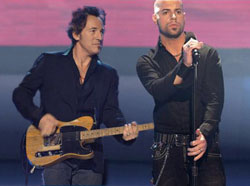 An Idol source tells Backstreets that Bruce's guest spot came at the urging of judge Randy Jackson, when the two were recently in the studio together with Sam Moore. No word on whether Bruce is a fan of the show, but he has flown out to L.A. to work with the contestants on arrangements. Current selections according to our source (all are tentative):
Ace Young: "Sad Eyes"
Bucky Covington: "I'm Goin' Down"
Chris Daughtry: "Further On (Up the Road)"
Elliott Yamin: "Back in Your Arms"
Kellie Pickler: "Waitin' on a Sunny Day"
Mandisa: "My City of Ruins"
Katharine McPhee: "Human Touch"
Paris Bennett: "Fire"
Taylor Hicks: "Soul Driver"
Again, these songs are not set in stone, and could easily change by Tuesday night's broadcast. American Idol airs Tuesday at 8pm ET/PT, with the results show and Springsteen's live performance (a debut from The Seeger Sessions, perhaps?) Wednesday at 9pm ET/PT.
-April 1, 2006

ONE-WEEK DELAY FOR SEEGER SESSIONS RELEASE
Oh, what a difference a colon makes
We Shall Overcome: The Seeger Sessions, originally scheduled for April 25, has been pushed back to May 2, with the additional week necessary to rectify a packaging error. A source close to the Springsteen camp tells Backstreets, "It's just one punctuation mark... but if you think about it, 'We Shall Overcome The Seeger Sessions' isn't quite the message we want to put out there. Even though," he adds, "we think we will overcome it -- we really do." After some serious debate over whether to reprint the CD art, Sony has decided to individually sticker each copy with the missing colon. This is not the first time the label has dealt with punctuation-related snafus; heads rolled when there was an errant question mark on The Essential Bruce Springsteen. For now, stickering has begun; sounds like it's a regular colonoscopy over there.
-April 1, 2006

SEEGER SESSIONS: EXCLUSIVE ADVANCE PREVIEW!
With listening events now scheduled for early April, the advance promotion for Springsteen's new album will be picking up steam online as well, beginning with this FREE mp3 download.
As opposed to the 30-second clips previously available online, this one is a complete track. While some fans anticipated that "Froggie" would be the "Pony Boy" of the album, not many could have foreseen this, recorded live on Springsteen's New Jersey turkey farm -- and continuing the sonic experimentation of the Devils & Dust tour.
-April 1, 2006

REHEARSAL REPORT: BRUCE'S EVER-EXPANDING INSTRUMENT ARSENAL
As rehearsals proceed for the We Shall Overcome tour, the "joy of playing" that Springsteen cites in the album's liner notes is ever-present. While the bagpipes from the first day of rehearsals have yet to return, the banjitar from the Devils & Dust tour is back, along several other new hybrid instruments: the guituba (a modified horn played with guitar-chord fingerings), a trombonica (AKA "harmonibone"), and the zitheridoo.
-April 1, 2006

SURPRISE GRAMMY HONOR FOR SEEGER SESSIONS
In a special ceremony ten months ahead of schedule, We Shall Overcome: The Seeger Sessions has been awarded the 2007 Grammy for "Best Contemporary Folk Album." Acknowledging the competition has grown stronger each year, Bruce was clearly thrilled with the premature honor. When asked if he heard that John Prine was working on a new record, Springsteen held his Grammy aloft and said, "John Prine can suck on it."
-April 1, 2006

SPRINGSTEEN KEEPS 'EM COMING
Sony-BMG's recent resigning of Springsteen to a 15-album contract is shaping up to mean a bounty of new releases for Bruce fans, with the Born to Run box just the tip of the iceberg. On the horizon (exact release dates TBA):

Songs AudioBook
Springsteen's 1998 Songs book will make the leap to book-on-tape (both casssette and CD editions will be available), read by the author himself. This unabridged release will feature Bruce reading the lyrics to every song in the book (the idea of incorporating backing music is still being considered). Available this summer through audible.com, and through retail outlets in Fall 2006.

Hammersmith DualDisc
The audio and video for Hammersmith Odeon London '75 reissued on the double-sided DualDisc format, in newly remastered 5.1 stereo sound!

Born in the P.S.A.
A two-disc set will collect all of Springsteen's "Public Service Announcements" from the Rising tour, presented in chronological order from first show to last. According to advance press materials, the two-disc set "traces the extraordinarily fascinating evolution of an integral facet of Springsteen's wildly successful 2002-2003 tour, chronicling a dazzling, historical, epic series of speeches central to the most successful of Springsteen's stunningly remarkable tours." Initial pressings will include a third bonus disc: "From My Ass to My Heels: The Acceptance Speeches."

Devils & Dust: The Demos
Early drafts of Springsteen's 2005 release, on which every song from the album is sung to the tune of "Blood Brothers."

The Saget Sessions
The supposed You'll Accomp'ny Me: The Seger Sessions was just an internet hoax, but this one's for real, inspired by comedian Bob Saget's performance in The Aristocrats. The highlight is Springsteen's retelling of that classic joke:

This was back in the early part of my career, when I had just signed with Columbia Records. And they had signed me as a "solo artist," see, because that's how I had been performing at the time, and Mike [Appel] kinda saw me that way. But I wanted the band in there with me. And so I had to fight for that a bit in some fashion. So one day John Hammond, that's who signed me, he calls me into his office, and he says, "So what's this I'm hearing about a band?" And I say, "Yeah, I want these guys to be with me on this album. It's more than a band -- it's like we got this whole… this whole act we do." "An act?" John says. And I say, "Yeah, yeah, we got this great act, you gotta see it!" So he says, "Well, you got five minutes, Bruce, tell me about it." So I say, "Okay, we got this big sax player, see, we call him 'The Big Kahuna.' So he comes on first, and he's got this saxophone, and..."

Well, you've really got to hear it to believe it.
-April 1, 2006

PETE SEEGER GETS HALL OF FAME REINDUCTION
With his forthcoming album bringing 86-year-old folk pioneer Pete Seeger back into the spotlight, Bruce Springsteen will have the honor of rewelcoming Pete Seeger into the Rock and Roll Hall of Fame. Originally inducted by Arlo Guthrie and Harry Belafonte in 1996, Seeger has been given special Rock Hall dispensation to be reinducted ten years later. Reportedly, the rehonor is due to Springsteen's hankering to give one of his patented induction speeches: "I had this one ready back in '96 -- I wrote it in one sitting, live with no cross-outs. 'The sound of froggies courting... of lions sleeping... of flowers going. And that hair, Pete! Where'd all that go?' It's good stuff. And I get to give credit for lifting that whole 'waist deep in the big muddy' thing, in some fashion." Seeger's reinduction will take place at the 2006 ceremony -- which, it might be argued, has already occurred, but as a Rock Hall spokesperson points out: "No one really noticed."
-April 1, 2006

"AIM YOUR GUN, SHOOT YOUR SHOT..."
In what official sources are describing as a "minor incident" on Bruce Springsteen's New Jersey turkey farm Thursday afternoon, Jon Landau accidentally shot Kurt Loder in the face. Although there has been no word from Jon Landau Management (currently operating from an undisclosed location), Loder, now resting in the ICU, held a press conference to express his sympathy for Springsteen's manager. "I can only imagine what it would be like to shoot someone else in the face." Loder slurred. "I guess Jon thought I was a turkey -- he must be going through hell." When asked how he was feeling, Loder nodded to an arrangement of engraved tiles on his bedside table and insisted that the reporters choose one of those topics for discussion. No one did, and an awkward silence ensued.
-April 1, 2006

MEET THE BACKSTREETS STAFF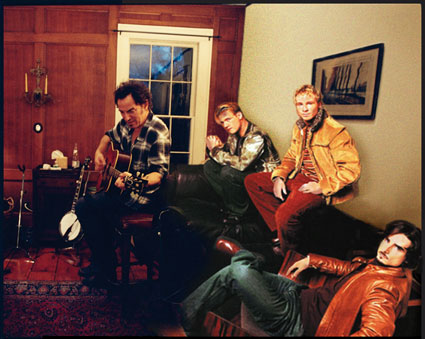 Chillin' with the Boss... 'cuz that's how we roll.
-April 1, 2006