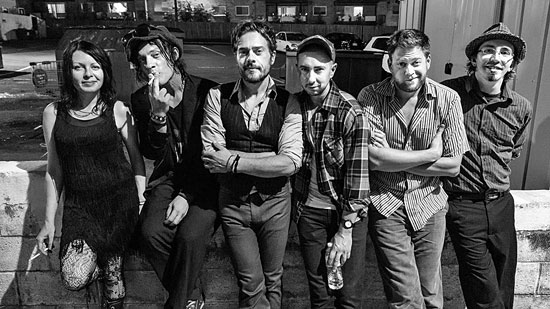 Marah in 2015, L-R: Christine Smith, Dave Bielanko, Serge Bielanko, Adam Garbinski, Dave Peterson, Mark Sosnoskie - photograph by Marko Korkeakoski
It's been eight years since Marah has played a proper show in Philadelphia, and even longer (15 years, to be exact) since their 2000 release, Kids in Philly, saw the light of day. Consequently, their October 17 extravaganza at the Underground Arts performance space (the newest addition to Center City East's burgeoning club scene) — billed as the "Marah - Kids in Philly Vinyl Release + Reunion Show" — is kind of a big deal, not just to its fiercely loyal fan base, but to founding members Dave and Serge Bielanko. Indeed, given the band's untimely and ugly demise in 2008, which quite literally occurred overnight just prior to a major U.S. tour, and which fractured not just the band itself, but a songwriting partnership that had attracted attention from the likes of Steve Earle, it seemed unlikely that this mercurial group of misfits would ever agree to be in the same room together again, let alone perform in their own hometown. And yet, miraculously, they've already played a DC area "sneak attack" gig that has left fans breathless and salivating.
Given the nature of the current American cultural landscape, it seems rather quaint now that many were genuinely shocked and dismayed that Marah's singularly grisly breakup should have occurred in public, live on social media, but that's precisely what happened. And after so many glowing reviews of their (then) brand-new release Angels of Destruction!, with a supremely talented and versatile lineup that many fans had thought was its strongest to date, with several national television appearances in the offing, with the proverbial table being set for a long-deserved major breakthrough after years of struggle and hardship, the dissolution of the band that novelist Stephen King had once called "probably the best rock band in America that nobody knows" was all the more heartbreaking for its fans.
After all, Marah was never just a band. It was, in the truest sense, a band of brothers held together by shared struggle and sacrifice, a community forged of countless friendships formed across oceans and continents, of longstanding personal relationships and musical partnerships, of romances and breakups and reconciliations too numerous to count.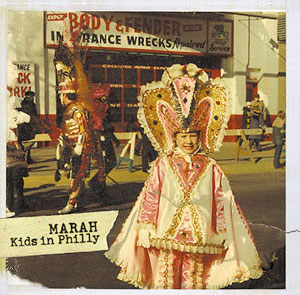 If all this sounds excessive and just a tad over the top, consider that these same Bielankos were once called up onstage by none other than (friend and longtime fan) Bruce Springsteen on, of all places, his own home turf, Giants Stadium. This is a band that doesn't do anything halfway, and doesn't know how.
So how is it that this Marah reunion is happening now? Well, there is the long-overdue release of their seminal work, Kids in Philly, in vinyl and remastered, complete with the requisite extras: gatefold packaging, new liner notes, CD and download card with bonus material. But given the band's complicated past, surely there was more to the story. To that end, Backstreets conducted the following interview with Dave Bielanko, eliciting enlightening answers, occasional obfuscation and even a couple impromptu book reviews.

Backstreets: The show in October is kind of big deal for Marah fans. How has it felt for you guys getting "the gang" back together?
Dave Bielanko: Big deal for us too, just to stand in the same room together feels like a big deal to us now. We share a lot of past. Musically, it really seems to work for a bunch of reasons. Serge and I are obviously brothers and can finish each other's sentences, yes, but Adam [Garbinski] and Dave [Petersen] get our music in many ways that most others do not: our sense of timing, the momentum of a live show, sense of humor too, the difference between playing something "straight" or "swinging it" — two great techniques, if you know what you are doing. Christine is like a sister to us all. She is the music; if you have questions about anything, you usually go to Christine. We are a good squad, cover all the bases. Together we possess the collective ability to give ourselves away to the show, to swing really low, to make it happen night to night. So yeah, to me personally, it's the most valuable thing in the world, a strange, magic gift. We are lucky to have it. I'm lucky to even know these people. They are my favorite rock 'n' rollers. There is very little personal ego involved in any of it. I love rock 'n' roll bands, [and] I know this is a great one. If I ever have questions [about it], I could never again take that for granted.

We played an impromptu show last month in DC, opened with "Wilderness," encored with "The Hustle," played 25 other songs in between. It was a tremendous night for me. The closing of a giant circle. The band feels all grown up in this amazing way it never did before. Maybe it never really could before? I'm very proud of what's going on.

Dave, you and Christine have carried the torch for the band, but I think fans always felt like the split that happened wasn't "The End," that there was just such a strong spirit behind this band that you guys would find a way to work together again.
Well, that's really cool to hear. I'd be lying to say that I didn't kinda feel the same way over the past bunch of years. I thought I was alone, so I hid that feeling from other people. Perhaps all of us in the band had those feelings from time to time?

But yeah, I think the spirit you are talking about is very real. It's there. I think the people we were able to connect with over the years connected very deeply. If you liked our band, you tended to love it. Tons of other people have no idea we even exist, ever existed... but that's cool, too. It makes all this more special. Kids in Philly is a wicked cool record — that's all. It needed to be released on vinyl, and throwing a party for that seemed like a worthy reason to play music together again. I guess people just need a reason sometimes.

Our lives together as this band back when we were playing five or six nights a week was always a bit more complicated than that. The shows were usually pretty powerful and made everything make sense on some level, but we also lived under an enormous amount of stress with finances, traveling, juggling art and life. Nobody wants to let anybody else down. We were all friends. It's complicated... the highs are very high, the lows are crushing and inhumane. It can get away from you.

Christine and I kept going largely because we couldn't figure out anything better to do. Watch TV? We didn't even have one... so I don't know? We weren't gonna stop doing what we were doing. I don't have the answers. Which in turn just opens the door to more puzzling questions.... was it ever really broken? Is it even worth saving?? It goes around and around. To me it's still baffling how very important and human and soulful and irreplaceable certain chemistries and connections are. Our band feels like one. To me it is one.

Are there plans for more shows down the road for fans who can't travel to Philly?
In my head there are plans for many, many more shows now. In my head we are playing tonight in Duluth, MN. It's sold out, you can't get in... I'm trying to see the way forward, I think we all are.

You obviously have such a strong musical partnership with Christine, and you two have been a writing and arranging team for a while now. Now that Serge is back for these shows, has he done any writing for the band?
We don't talk about that! We whisper about a new record with Serge and this lineup late at night; I scribble stuff on the backs of receipts from time to time, but it's still just a nice dream. Nothing would be better in my opinion than a new Marah record... provided it was a great new Marah record.

Adam Garbinski and Dave Petersen were fans of the band from way back, and they have a longstanding friendship and musical partnership of their own with Bloodline. How have they contributed to the band over the years?
Serge and I remember Adam and Petersen from the front row of Marah gigs for years before they joined the band, wearing their crazy rock clothes, clapping after the songs, so cute! We'd hang out after gigs and talk about music. Those two are wicked smart, incredibly knowledgeable about good music and how it is made.

Adam is my favorite kind of electric guitar player, it's never sketchy... except when it is, when it's supposed to be... real hard to explain. He and Serge play like two drafting race cars, bobbing in and out of what I do; my parts usually imitate trains. It's great fun when we're out there, feels right. Good parts. Dave Petersen has bizarre internal rhythm; I guarantee you that he is some reincarnated percussionist from the Jazz Age, Chick Webb or something, maybe a piano player? It doesn't matter... My confidence level is lifted greatly by having him back there, which in turn changes everything... for the better. And they contributed friendship; we were all always great friends.

You guys have had some really great mentors in the music business: Steve Earle, Bruce and Patti to name a few. How did their friendship affect you personally and/or musically? Do you ever hear from them?
I saw the Earle just the other night in State College PA. We went backstage and all we ended up talking about was playing stickball (with half a tennis ball) in South Philly while we were recording Kids in Philly. He is the bomb. One of our greatest [friends]. A real gift. I love Steve a lot. Bruce and Patti too! How amazing are they? Such great people. I love them a lot. I do, however, tend to hold Bruce in a Sinatra-type regard, i.e. I don't call him up a lot to chit-chat. I don't "swing by."

You and Serge have always been big readers. What have you read lately that's really grabbed you?
[Johann Hari's] Chasing the Scream: the First and Last Days of the War on Drugs. This book destroyed me. The story of the coward and open racist Harry Anslinger, the man who spearheaded America's war on drugs. He did it out of greed and paranoia. He absolutely targeted blacks and Hispanics, he singled out poor Billie Holiday, an easy target — maybe the easiest — to make an example of her. He ultimately kills her. He goes on to kill many, many more people.

This guy paved the way for 100 years of suffering and imprisonment and death and sadness; he is responsible for destroying more families than any other war criminal in history. He dies a drug addict. Eventually he is largely forgotten like any small-minded fool, but his policies remain in place. Billie Holiday is not forgotten; she will always be remembered and celebrated for her amazing music and boundless soul... for the rest of time. Justice. Read this book. A young English guy wrote it, his writing is masterful and unemotional, he kinda just gently and gradually shakes you awake from a nightmare you didn't even realize you were having. A+

Also Patti Smith, Just Kids. Holy crap! A+

How about music — anybody special really caught your attention?
Um, can't think of anything... The Cure, been listening to The Cure a lot lately. Great, great band.

Except Adam and Dave, you guys have all pretty much settled in the State College area of Pennsylvania, but you're originally from the Philadelphia area and Christine is from Queens. What drew you to this area?
When the band imploded in 2008 after recording AOD!, Christine and I limped up here to an old hunting cabin in an Amish farming community, then we just kinda waited for everyone to calm the fuck down and book another show already. It took quite a few years, but eventually we all agreed to Philadelphia on October 17th, 2015.

I can't tell you how excited fans are for this show. Anything you can tell us about what to expect?
Yeah, the lights are gonna go down, there will be this really insane and exciting moment of anticipation, and then we are just gonna walk on out there and play the best rock 'n' roll show we ever have. It's the best idea we have come up with yet, so we will probably stick to it. Can't wait.
Tickets are still available for Marah's Underground Arts reunion show via Ticketweb. Visit www.marah-usa.com for further information or to purchase Marah music and merchandise.