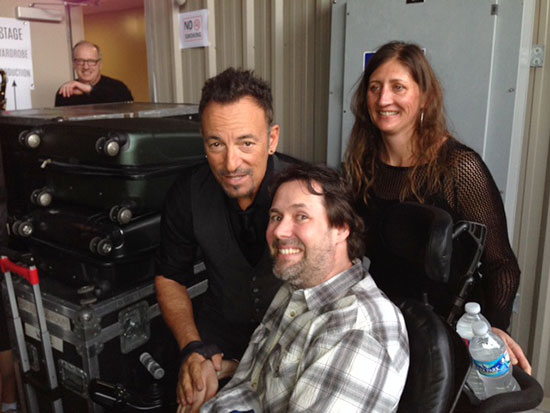 - photograph by Anna Selden
By John Anderson
I should begin by saying that I would never personally "play the ALS card" to seek out special attention/access, and I think it's safe to say that my friends and family all know this about me.
That said, however, when you've been a fanatical Bruce Springsteen fan since you were a kid, and are afflicted with a terminal disease in your 40s, and when you, three years post-diagnosis and confined to a wheelchair, have a ticket for what may very well be your last-ever Bruce show (having seen him something like 140 times since 1984), and you're blessed with dozens of close friends you know purely through a common love of the man's music — friends who love you and whom you love — well, let's just say that there's nothing that's going to stop those blood brothers and sisters from doing everything they can to make a dream come true on your behalf.
As it turns out, an untold number of my friends have secretly been petitioning the Springsteen organization for months on my behalf to help make a dream come true on Saturday night in Virginia Beach. Many of those friends didn't even want me to know they were involved (because they seek no credit), but I have spies, and I now know most of the names involved. I won't name any names out of respect for those who wish to remain anonymous, but you all need to know how much I love you for doing what you did for me and Amanda: acting as my own personal Make-a-Wish foundation.
Consequently, upon arrival at the venue, we were met by Sean Magovern, son of Bruce's longtime personal assistant and much-missed dear friend, Terry Magovern. Sean, who clearly has a heart as big as the Big Man, and who is President and Executive Director of the Joan Dancy and PALS Foundation (which benefits ALS sufferers), then proceeded to give a small group of us a tour of the backstage area, providing a fascinating window into all the work that goes on behind the scenes to put on an E Street show. (After our tour, Sean told us more about the PALS Foundation and generously invited us to take advantage of their resources and knowledge base for assistance as my disease progresses.)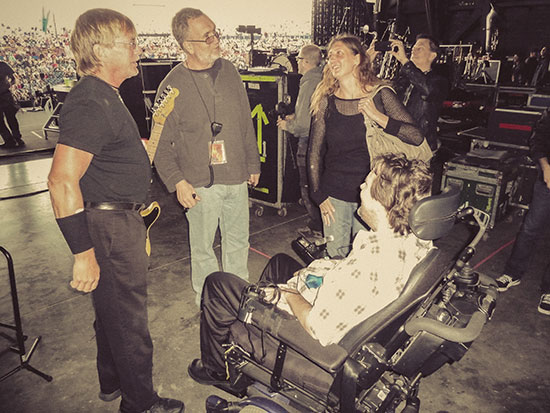 During the tour, Sean introduced us to several key crew members including Kevin Buell [above], booking agent Barry Bell, video director Chris Hilson, and manager Barbara Carr, who couldn't possibly have been any lovelier to us, in addition to the Reverend Everett Bradley [below], a super-sweet guy with whom I was able to share a personal story.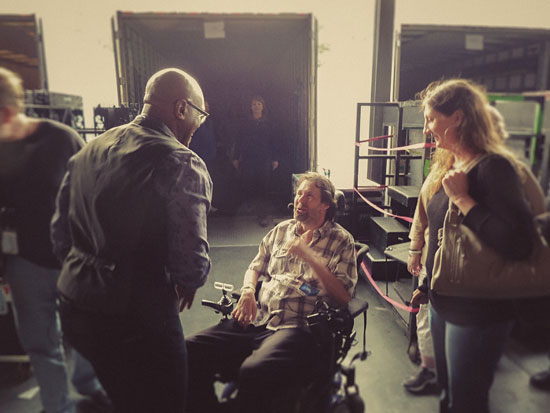 The tour continued with Sean taking our group onto the stage itself (!!) and staging a photo op for me and Amanda in front of Bruce's microphone stand — and in front of the eager, if no doubt puzzled, capacity crowd. Craziness.
Next, Sean himself graciously took a picture of our group at the rear of the stage behind Max's drum setup, and then we were asked to reduce the size of the group because we were very close to showtime and things were happening quickly. A couple of friends were able to stay behind with me and Amanda, and it's them we have to thank for the pictures of what happened next.
From a hallway near the catering area, we could hear the singers rehearsing — what we would soon discover was a sneak preview of the opening number, "May I" by Bill Deal and the Rhondels, in a very cool a capella arrangement.

Soon thereafter, Sean and Barbara explained that we were moving to the backstage area where our tour had begun, placing us next to the spot — directly in front of the stage door — where Bruce would soon gather the band in a circle of joined hands and say a few inspiring words in their ritual pre-show prayer circle. We were about to bear witness to a ritual to which most mere mortals are simply not ever privy. Could it get any better than this?
It could.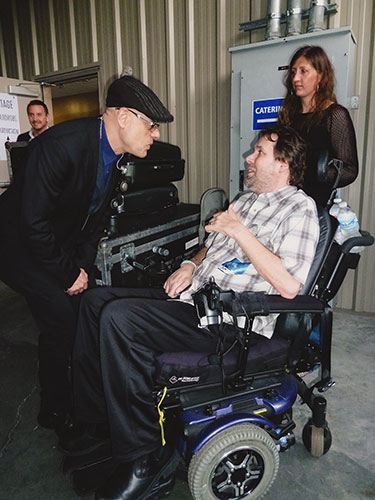 First, as the band began to assemble, Barbara brought Charlie Giordano over and introduced him to us, and he was also as welcoming as could be during our brief chat, during which with I was again able to share a personal story.
Then, after the whole band had gathered, Bruce himself walked in... but before he joined the circle, Barbara steered him over to introduce him!
Bruce warmly thanked us for coming to the show and said that he didn't think he'd ever played Virginia Beach before (I replied that I was pretty sure he was right). We talked about the last show I'd seen (Charlottesville 2012, which he also enthusiastically recalled as having been "a good one!"), and he said that whenever they come South, the shows tend to be great, which he attributed largely to the energy of the crowds. I agreed and replied, "Here's to another great one tonight in Virginia Beach." Bruce's response was a hopeful, "We'll see!"

And then... and then... then Sean came over with Bruce's mic, said that Bruce needed to go to work with it in a few minutes, but that I should officially hand off the mic to him (!!!). And then Sean presented the mic to me with an air of ceremony, and I passed it to Bruce, not believing it was happening even as it was happening.
Now I know what it must feel like to carry, and then ceremoniously pass on, the Olympic torch.
Surely it couldn't get any better than this.
It could, and it did.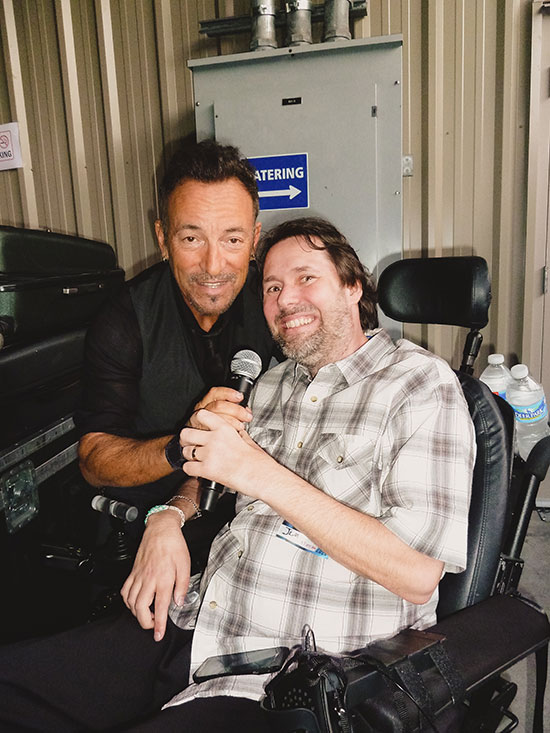 Bruce then crouched down next to my wheelchair and requested that my friends capture the moment in photos. They happily obliged as Bruce and I gripped his mic together, both smiling for the cameras. He asked how the pictures came out, and thoughtfully suggested another round as a backup. We then thanked him profusely, bade him farewell, and then he went straight from talking with us to join hands with his wife and the rest of the band, and led their prayer circle. (I'm not going to write about that though, because it was a private moment that we were privileged to witness.)
From there, the band walked through the stage door and Bruce and his freshly-inducted-into-the-Rock-and-Roll-Hall-of-Fame E Street Band commenced to deliver as thrillingly mind-blowing a performance as I've ever seen. This was Bruce Springsteen totally off the chain, chugging a fan's entire (large) beer during the longest-ever "Sherry Darling" sax solo. That kicked off an inspired summertime-themed mini-suite of songs for the Virginia Beach setting that included what had to be the best "Talk to Me" of all time, "Seaside Bar Song" (preceded by words that are music to any hardcore fan's ears, "More obscurities!"), and a beautiful "Jersey Girl." The songs from the new album all sounded fantastic live (including the E Street premiere of a moving "The Wall"), the classics were electrifying as always (that's why they're classics), and the covers were a joy. The show was so ridiculously good, and Bruce's mood so ebullient, that I was half-expecting Tom Waits to come out and guest on "Jersey Girl"... but Bruce and the band didn't need any outside help to take us all to the other side with them on this magical night.
What I would have liked to have said to Bruce, but the flow of the conversation (and the fact that it was essentially showtime) didn't really allow, would have gone something like this:
"You hear all the time how much your music means to people, so let's just take that as a given. What I suspect that you don't hear enough is just how many deep, deep friendships are born out of a shared 'Bruce addiction.' To paraphrase a line from 'The Wish,' among 'all the things that guitar brought us' are some of the most meaningful and cherished friendships of our lives. It's impossible for me to overstate how much that means to those of us in the community of dedicated fans, and I think it's important for you to know how grateful we all are to you and your music for making those relationships possible. You and I wouldn't be having this conversation right now if not for so many of my friends wanting to make this moment happen for me, and a whole lot of them traveled to be here tonight — from all over the U.S. and from as far as Australia — to share the experience of this show with me. Thank you for bringing these, and so many other dear friends into my life through your art."
I only wish it had been possible for all of my Bruce blood brothers and sisters to be with us on Saturday, but as has been correctly pointed out to me, "If Bruce is there, and we're there, they're there."
I can't end this without a special thank you to the most important person in my life, my wife Amanda, without whose love, patience, and understanding this weekend — which presented more than its share of challenges, logistical, physical, and otherwise — simply wouldn't have been possible. In every possible way, Amanda's presence was essential on a night that a dream came true for me... and to (inappropriately) borrow an (appropriate) line from another great songwriter, "You're the measure of dreams," my love.
- John Anderson ("Here's one for friendship...") #ALScapades (a term I just coined this weekend) - photographs by Anna Selden (1) and Adam Baker (2-7)