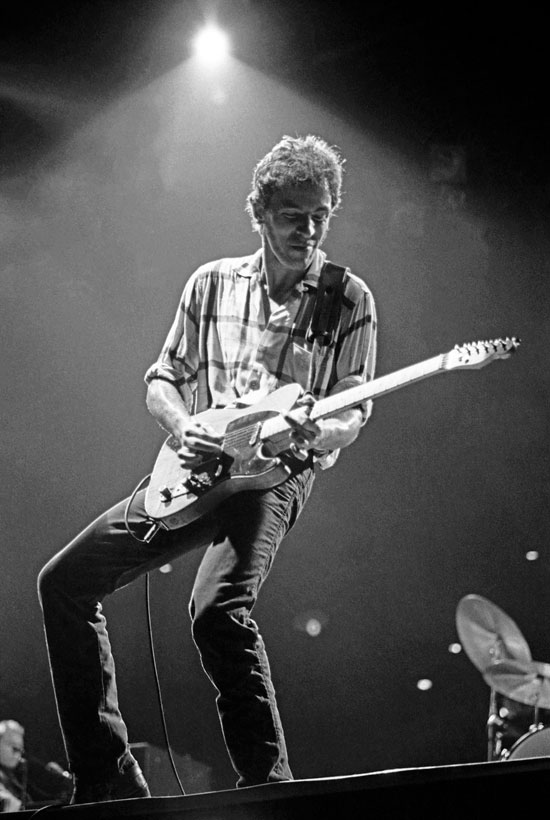 October 1980, Richfield Coliseum - photograph by Janet Macoska from her 2021 book Bruce Springsteen: Live in the Heartland
"I just don't see that much respect [anymore] for the craft that I do, in a storytelling form. I can't see what we do continuing. It will, in some way, but I for one don't like working that way. I'm just glad I was shooting in the days when I had more freedom."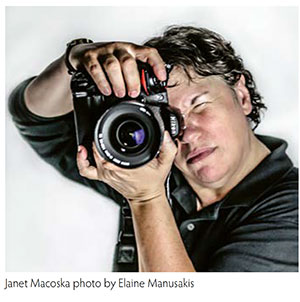 Photographer Janet Macoska, in our new Backstreets interview, is responding to a question about a presentation she hasn't given yet but advertises on her website, entitled "The Last Days of Rock & Roll Photography." She has clearly thought long and hard about how things have changed since her time photographing concerts, beginning in the early 1970s.
In an era when everyone with a computer is a recording artist, everyone with an iPad is a DJ, and everyone with an iPhone is a photographer, it's easy to understand the frustration. Throw in a "first three song" photo restriction, shooting from way back at the soundboard, the consolidation of music promoters from locals you knew and grew up with to national promoters with no ties, and then add a worldwide pandemic that brings a halt to the live music industry… and what is a concert photographer to do?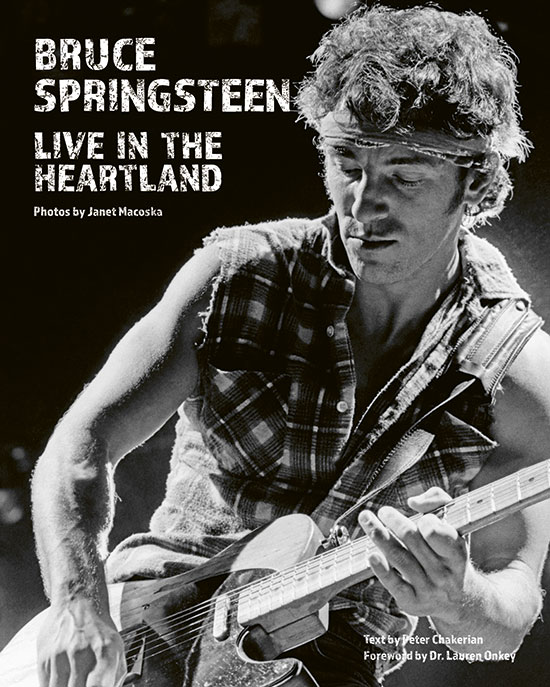 Luckily for Springsteen fans, Macoska is preserving and sharing her own life's work, following up her excellent debut All Access Cleveland: The Rock & Roll Photography of Janet Macoska with a new collection of photographs, Bruce Springsteen: Live in the Heartland.
With a foreword by Lauren Onkey and year-by-year commentary on Springsteen by Peter Chakerian, Live in the Heartland is fascinating as the vision of a singular photographer covering almost the entirety of Springsteen's touring with the E Street Band, from their 1974 debut in Cleveland (as an opening act) through the 2016 River Tour.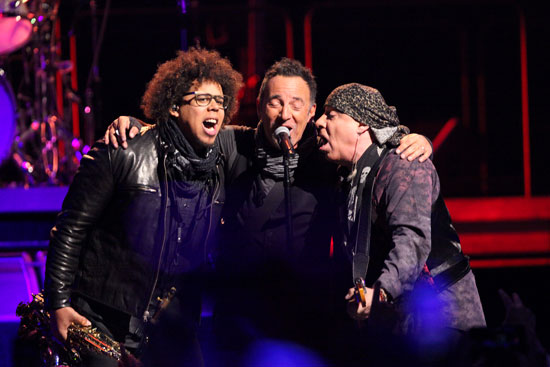 The 2016 River Tour stop in Cleveland, February 23 at Quicken Loans Areana - photograph by Janet Macoska from Bruce Springsteen: Live in the Heartland
Though it doesn't cover every single Springsteen tour (more on that later), Live in the Heartland is fascinating for tracing the course of Springsteen's performing career as a Columbia artist over five decades, through the eyes and lens of one photographer. Turning each page of Macoska's book, you can see (and almost hear) the transformation and growth of Springsteen and the E Street Band as a powerful and dynamic center of attention. Simultaneously, the reader watches Macoska's eye and visual skills thrive over the same period. If Macoska's goal has been to tell stories through her photography, she's presented an epic adventure in Bruce Springsteen: Live in the Heartland.
Lauren Onkey, former Vice President of education and public programming at the Rock and Roll Hall of Fame and Museum in Cleveland and currently the director of the Corcoran School of the Arts and Design in Washington, DC, sees growth in Macoska's journey as well: "I think what's a common thread, for me, is the intimacy, especially of the early photos. There's something about her ability to capture the physicality of performers, that I almost feel like they can come to life at times… you can see someone about to go into a dance move, or they are in the middle of a dance move… that seems to be what her eye really looks for… that passion of an onstage performance."

October 1980, Richfield Coliseum - photograph by Janet Macoska from Live in the Heartland
Like many before and since, Janet Macoska was enraptured with music at an early age. It started with Ricky Nelson's performance on the Ozzie and Harriet show. "It's like his performances were the first rock videos. It was really good rock 'n' roll," Janet tells Backstreets. "I remember thinking, I hadn't seen anything like this."
Soon after, it was that tsunami from Liverpool and The Beatles hitting the U.S. in 1964 that changed Macoska. Like many of her generation, The Beatles' dominance of the U.S. had a profound impact — not only on her musical tastes, but as inspiration on what she might want to do with her life.
"You knew that if [The Beatles, coming from Liverpool] could make the sensation they did in this world," Janet says, "it didn't matter where you came from. You could be from Cleveland, Ohio — you could be from anywhere. And I felt that, somehow, I very much wanted to be a part of that world of music. Immediately, at 10 years old — and knowing I had no ability to be a musician — I started playing around with my parents' camera that was in the front room closet. It was my introduction to finding a way to tell stories."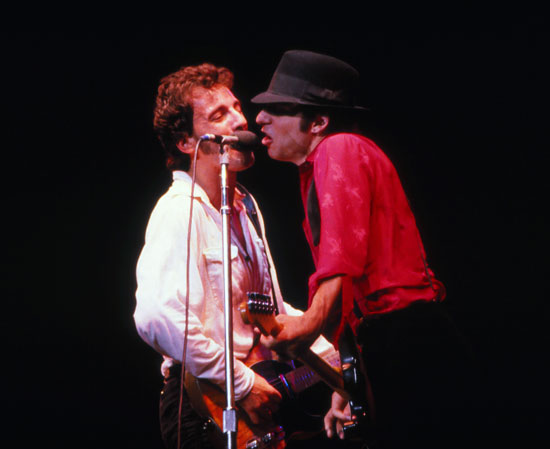 October 1980, Richfield Coliseum - photograph by Janet Macoska from Live in the Heartland
Using her instincts at an early age, Janet became a part of the world of music (or at least a part of local radio) when she ran the fan clubs for two local disc jockeys on Cleveland's WKYC. Her payment: free promotional 45 rpm records. She was also able to take her camera to the station, and she put it to good use. She started by taking photos of staff; soon, recording artists were visiting to promote their new records or tours. Her teenage portfolio started with photos of Gary Puckett & The Union Gap and Sonny & Cher. Macoska submitted one of her Sonny & Cher photos to Teen Screen magazine, which printed the photo and paid her the grand sum of two dollars.
But it wasn't the money that got Janet excited. She had grown up a fan of Teen magazines, reading all about her favorite musicians and getting behind-the-scenes glimpses that couldn't be found anywhere else. That would later come in handy.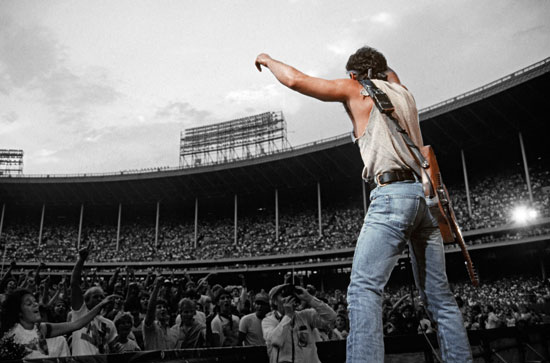 August 7, 1985, Cleveland Municipal Stadium - photograph by Janet Macoska from Live in the Heartland
As a teen attending a Catholic girls' high school, though an active participant in her school paper, there wasn't much opportunity for Janet to write about rock 'n' roll: "You wrote about the fact that the Senior Class donated a water fountain as the Senior Gift, you know?" But it was during this time that she came into contact with legendary newspaper columnist Jane Scott, who developed a group called The Young Ohio Reporters. Scott would then organize press conferences with willing entertainment figures — which included Leonard Nimoy, Pat Paulsen, and Tommy Boyce & Bobby Hart — so that these teenage reporters could handle such opportunities with professionalism. Macoska would take her camera to the press conferences and work with a writer, but the school wouldn't print their stories.
It wasn't until she started attending community college that Janet started getting her pictures and articles published in the newspaper — but, just as in high school, they didn't want to cover music. She took it upon herself to strike up a deal with the student paper's advisor: "Listen, I'll do the stories you assign me, but I'm also going to write about music. If you have students who don't do their assignments, and you have a hole in the paper, can you give me a chance to do some music articles?"
Perhaps imagining those circumstances wouldn't arise, the advisor agreed. Macoska got her hands on the newspaper's camera: a Mamiya twin lens reflex camera that you looked into from the top and the image was upside down, generally used as a portrait camera. She went on her way to cover her very first assignment, Wishbone Ash with opening act Bruce Springsteen.
"I had 12 frames on the roll [of film]. I went to see Wishbone Ash. I liked Wishbone Ash. I had heard their music on the radio. But then this guy comes on stage. He's just a scruffy, little beatnik guy. But he sounds cool. And he's charismatic, and he's got the Big Man with him, and he ended up taking up 6 or 7 of the photos I took on that roll of 12."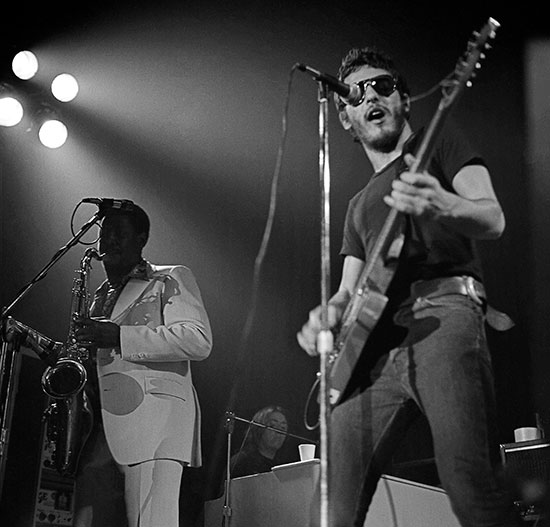 February 1, 1974, Cleveland's Allen Theatre - photograph by Janet Macoska from Live in the Heartland
Like a good, young journalist/photographer trying to make connections, Macoska started sending out tear sheets of her work to local clubs and promoters. Visiting the offices of Belkin Productions, the Cleveland-based promoter, sealed the deal. "I went over there and introduced myself, explained who I was," Janet recalls. "Here's the paper. Here's what I want to do. And from that point forward they gave me two tickets to every show they did! Forget it! It's like Christmas at that point!"
During this time, she was still learning through trial and error. Macoska ditched the Mamiya camera and purchased a 35mm Minolta as her weapon of choice. At the newspaper offices the person who developed the film on a weekly basis began tutoring Macoska on the finer points of lighting (especially concert lighting), film speed, aperture, and shutter speed, and she began taking consistently better photographs. During these early years Macoska was shooting concerts almost every night. In 1970s and '80s Cleveland, she occupies a space much like William Miller in Cameron Crowe's Almost Famous.
Macoska starts laughing. "I actually met Cameron Crowe. We were doing Rick Wakeman at Music Hall in '74. One of the people from the promoter comes down and introduces me to Cameron — 'This is Cameron Crowe from Rolling Stone' — and I'm looking at him going, 'He's a kid!' Which is silly, because so am I. I'm probably three years older than him at this point… we're kids, and we're just chuckling about how much fun this is!"
During this fun period, Macoska had a dream come true. As a Beatles fanatic, she was able to photograph the Cleveland stop of Paul McCarney's Wings Over the World tour in 1976. Her photo of McCartney playing acoustically looks an awful lot like the inspiration for the painting that ended up as the centerfold in the Wings Over America 3LP live album.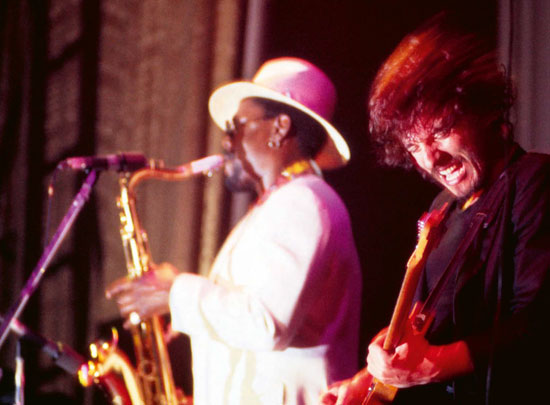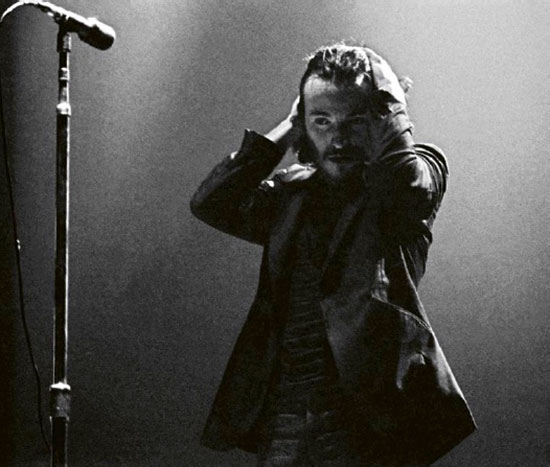 Above and right: April 7, 1976, Cleveland's Allen Theatre - photograph by Janet Macoska from Live in the Heartland
Also during that bicentennial year: the return of Bruce Springsteen and the E Street Band, again at Cleveland's Allen Theatre. Two things are evident from these '76 photos: Springsteen and the band look so much more put-together, with an almost palatable swagger in their presentation; Macoska, having put in the proverbial 10,000 hours, is capturing dramatically better images. A favorite of mine is what some might view as a throwaway shot, of Bruce dramatically running his hands through his hair.
"Oh! I'm glad you picked that one up!" Janet exclaims. "I really love that one, too, and I never really recognized it back then. When I was doing this deep dive into proof sheets and things [for the book] I was so excited when I found that one. It's like a microsecond when the lights go off and he's preparing for the next song." Also among these 1976 photos are some that may be familiar to Backstreets Magazine subscribers, as Macoska provided the cover photograph for issue #89, the "Cleveland Rocks" issue from Summer 2010.
While Bruce went away to deal with legal issues, write scores of new songs, and set his future in motion, Janet continued to shoot. It was during the late-'70s that she was able to watch as the old guard of rock 'n' roll barely held on, while new sounds came exploding onto the scene, if not always onto the airwaves. And she was there to document all of it. Macoska did her homework in advance. Regularly visiting England and often staying with one of her favorite artists, Alex Harvey (beloved in Cleveland), she was introduced to British photographers who offered stories and advice.
"By being over in England," Janet recalls, "I also learned what was going to happen in America, in music, because Britain was probably a year ahead of us. They already knew about Devo and Blondie and the Ramones. I spent time at (enormously influential British record label) Stiff Records, because I had photographed Ian Dury in the States. Ian Dury's manager was a young guy named Kozmo Vinyl, and he ended up going out on the road with The Clash.… and so anything I wanted to do with The Clash was fine with him." Throughout the late '70s she went on to photograph The Clash extensively, along with Blondie, The Ramones, The Police, The Dead Boys, Pere Ubu, and many more.

Paul Simonon and Joe Strummer of The Clash in 1979 - photograph by Janet Macoska
In January of 1977, Steven Van Zandt recorded tracks for Ronnie Spector with the E Street Band (and an uncredited, due to legal issues, Bruce Springsteen) for Cleveland International Records. When Bruce and the E Street Band played Richfield, OH, in February, Janet was commissioned to shoot the backstage scene on behalf of Steve Popovich, President of Cleveland International.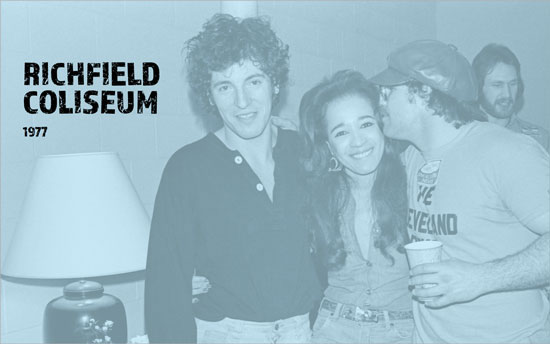 Introducing the 1977 chapter of Live in the Heartland, Janet Macoska's backstage photograph of Springsteen with Ronnie Spector and a Cleveland Boy, Febuary 17, 1977
"I didn't shoot the show," Janet says. "I was asked by Steve [Popovich] at the last minute: 'Hey, here's some tickets to the show. You'll be right by me. Afterwards I'd like you to shoot some pictures of Ronnie [Spector] with Bruce and Steve Van Zandt.' So we all went backstage — and Bruce isn't typically hanging around. He just kind of goes off some place. Bruce came in from a different room, and we took some photos. The Cleveland Boys were there drinking free beer — which is what they did! — and it was just a little hang… maybe 45 minutes hanging back there. Big fun!"
As the calendar turns to 1978, there are two heavyweight contenders: reigning champions The Rolling Stones, and up-and-comers Bruce Springsteen and the E Street Band. By all accounts, Springsteen won the year — certainly due in no small part to the constant touring for Darkness on the Edge of Town and the concerts that were broadcast, taped, and duplicated for any non-believers. In 1978 Cleveland was vitally important to this success; Macoska was there for most of it and photographed a lot of it.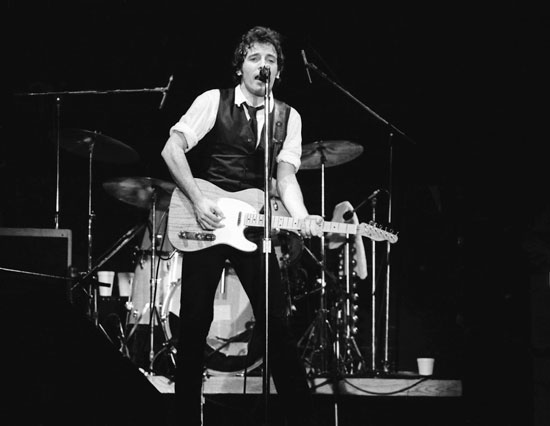 June 5, 1978, Toledo Sports Arena - photograph by Janet Macoska from Live in the Heartland
While the exclusive rights to shooting the famous Agora 1978 show went to her professional rival Bob Farrell, who was hired by CBS, Macoska attended the famous club show (broadcast on WMMS and later officially released in Springsteen's Live Archive series) as a spectator. "I don't remember how long I lasted," Macoska says of being cameraless at that August 9 show, "because it's reeeaaaally hard for me to watch photos go by my face — you know, seeing where I should be, to be getting that image, but being unable to. So, I went to Toledo. If I can't get Cleveland, I'll go to Toledo!"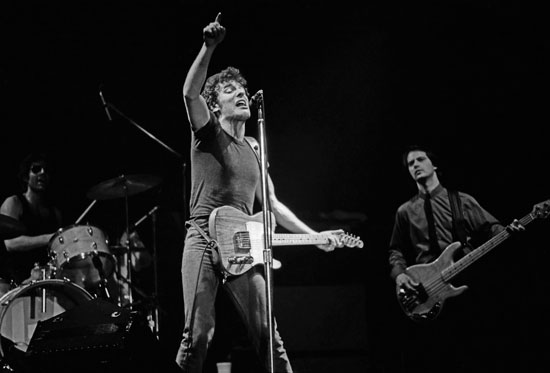 June 5, 1978, Toledo Sports Arena - photograph by Janet Macoska from Live in the Heartland
Lauren Onkey enthuses: "I mean, I had never seen any of the photographs of the Toledo 1978 show! It's a reminder that there are all these photos from all these local gigs. There are certain photos that become iconic because they end up in Rolling Stone, but there was a photographer at the Toledo show, and a photographer at the Atlanta show, and they were really important to local newspaper coverage."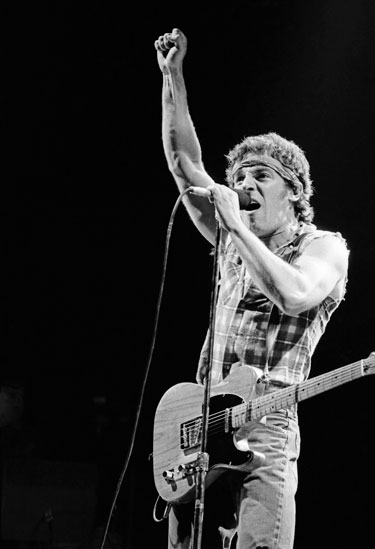 Right: July 8, 1984, Richfield Coliseum - photograph by Janet Macoska from Live in the Heartland
It's during the 1980 River tour, the 1984/85 Born in the U.S.A. tour, and 1988's Tunnel of Love tour that Janet Macoska's work really shines. This is also exactly the time that Springsteen shifts from being a coastal phenomenon to a national hero. From the brute force, working-man exterior of 1980-85 to the lonesome lothario of 1988's Tunnel of Love tour, Macoska captures it all intimately.
It's in this last third of the book that two concerts are juxtaposed, showing what appears to be the end of one era and the beginning (and yet also, the end) of another. Macoska's photos from the 1985 Cleveland Stadium show are as sweaty and gritty as one remembers that summer. While earlier stops on the Born in the U.S.A. stadium tour had little behind the stage to catch the eye other than an American flag backdrop, Macoska's photos reveal that Cleveland had the Marlboro Man watching down over Bruce, Clarence, and Patti throughout. It makes 1985 look a whole lot like 1984. Next it's 1988, we're wearing beautifully detailed Armani suits and very short mini-skirts, and carrying roses for dates real and imagined. It may not have been a dark ride, but it felt like dark times some nights.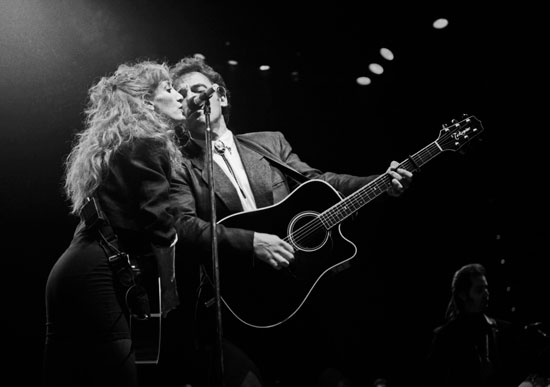 March 13, 1988, Richfield Coliseum - photograph by Janet Macoska from Live in the Heartland
As Springsteen faced the 1990s, he broke up the E Street Band and ventured onto other projects; so did Janet Macoska. Fed up with the restrictions put on music photographers, she walked away from it all. As she states in the new book, "I spent a lot of the time in Hollywood, snapping anything and everything but rock and roll for a spell. Perhaps it was time for both of us to mix things up."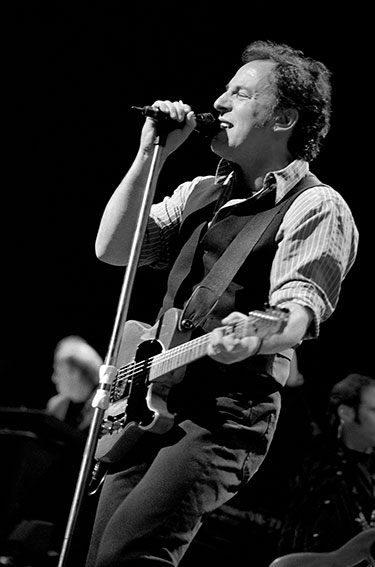 Right: November 14, 1999, Cleveland's Gund Arena - photograph by Janet Macoska from Live in the Heartland
Macoska stopped shooting rock 'n' roll for 11 years, missing Springsteen's 1992/93 tour, the Concert for the Rock and Roll Hall of Fame in 1995, the Ghost of Tom Joad solo shows and anything else through 1999. What and who was she shooting? Teen Idols were the subjects, and those teen magazines that paid her $2 for her Sonny & Cher photo were now buying shots of Backstreet Boys, Bon Jovi, Debbie Gibson, Mark Wahlberg, and Britney Spears photos. It was during the 1999 Springsteen and E Street Band Reunion tour that Janet got back on the bicycle and shot like the rock pro that she is.
Perhaps one of the most unenviable jobs relating to Bruce Springsteen: Live In The Heartland is the text to accompany Macoska's photographs. Other than Elvis Presley, The Beatles, and Bob Dylan, it's likely that no musician of the rock era has been written about more than Bruce Springsteen. What was it author Peter Chakerian could reveal that hadn't been discussed before?
"I wanted to bring something different to the table," Chakerian says, "that maybe even the most ardent person who finds an artist or act... I wanted to bring them something and set it on the table for them to consider that may not be a part of their lexicon. So in the case of this book, and knowing how many books have been written about Bruce over the years — and justifiably so — I really wanted to bring people closer to what Cleveland was like. Because Cleveland was such a pivotal and important part of Bruce's trajectory of superstardom. I wanted to write to people who weren't hip to how that symbiotic relationship was and to bring them closer to it."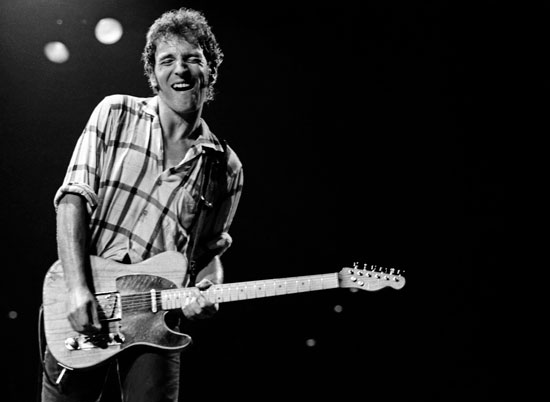 October 1980, Richfield Coliseum - photograph by Janet Macoska from Live in the Heartland
Chakerian succeeds in Live in the Heartland by weaving in current interviews with Macoska and using Cleveland-area reviews and stories to construct an oral history, telling the story of hometown visual artist and heartland musical favorite. For the most part, Chakerian succeeds in his mission. Take his final thought on the matter, from the book's Epilogue, and you'll see he hits the nail squarely and convincingly:
"Rock 'n' roll was always more than an infatuation to both Janet and me. It was our Age of Enlightenment, rife with transcendent devotionals and ritual observances disguised as rock 'n' roll shows. And that carries on — not just for us and for you, the reader — but for the generations who are just now discovering Bruce, and for those who are poised to."
— Bob Zimmerman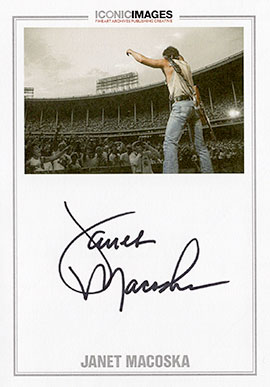 Order Bruce Springsteen: Live in the Heartland from Backstreet Records
This is a book we highly recommend for any Springsteen fan, and Janet Macoska has been signing especially for our readers.
Every copy of her book delivered by Backstreet Records will include this hand-signed custom bookplate [right].
Book + Signed Bookplate
You also have the option of adding her signature on the title page (for those who prefer the book itself signed).
Signed Book + Signed Bookplate
And the top-flight book package inclides an exclusive 5x7 print of Bruce and Clarence in 1980. This print is a limited edition of 300 Janet created and signed just for Backstreets — the smaller size keeps the price down, and this is a great opportunity to own an original signed print [below].
Book + Signed Bookplate + Signed Print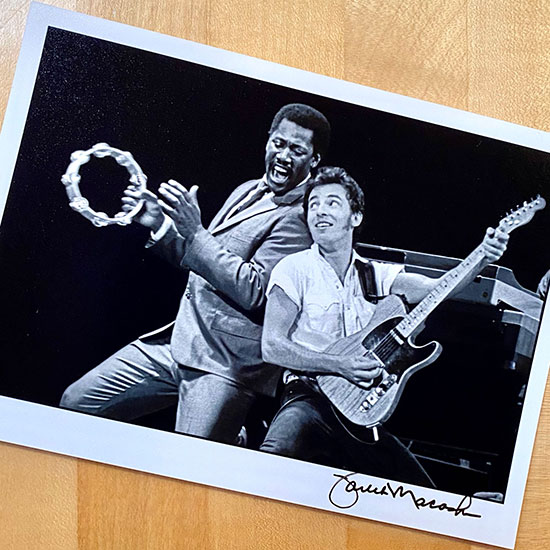 See all three Live in the Heartland offers in our online shop, where all sales help support Backstreets — and we appreciate your patronage as much as we appreciate Janet Macoska going all-out to provide us with something really special.
Thanks also to Janet and ACC Art Books/Iconic Images for providing us with so many of her images to run with this feature — don't worry, there are many more in the book!