Along with institutions like the Asbury Park Historical Society, Backstreets has been proud to play a part in resurrecting the history of Asbury Park's vibrant West Side community. But aside from Daniel Wolff's 4th of July, Asbury Park, no one has done more to bring this storied past to life than Charlie and Pamela Horner of Classic Urban Harmony. Backstreets' Lisa Iannucci recently interviewed a (very busy) Charlie Horner just prior to the opening of the Horners' new exhibit at Monmouth University's Pollak Gallery, "Asbury Park's Springwood Avenue Harmony: Celebrating The West Side's Unique Musical Legacy."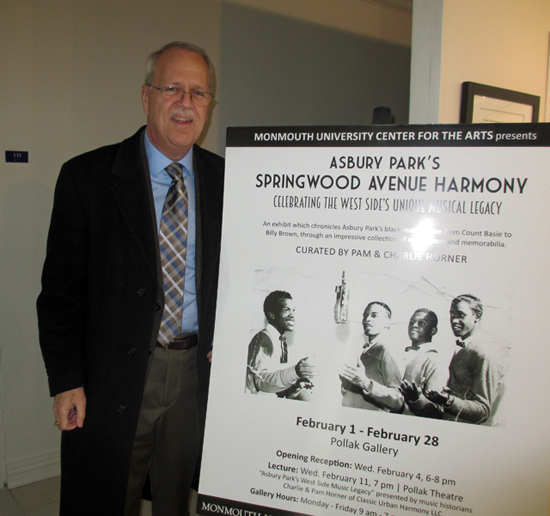 Backstreets: What was the impetus for this exhibit?
Charlie Horner: The realization that while much is known about post-1970 Asbury Park rock music, there was a whole segment of the city's musical legacy, that of the West Side, that has remained largely undocumented and unknown to those outside of the area. Yet this music laid the groundwork for much of the later music in Asbury Park and throughout the country.
It is time these unsung heroes of American music were given recognition and the full story of Springwood Avenue and Asbury Park's West Side music legacy be told.
How did you first discover this "lost" Asbury Park history?
We are music historians, specializing in African American styles of vocal harmony (Rhythm & Blues, Doo Wop, Soul and Gospel). We'd been friends with Bobby Thomas for many years. Bobby Thomas started Asbury Park's first recording Rhythm & Blues vocal group, the Vibranaires, in the late 1940s (they recorded in 1954). Knowing our talents for researching, documenting and preserving the histories of vocal group music elsewhere, Bobby Thomas convinced us to look into the history of vocal group singing in the area where he grew up — the West Side of Asbury Park. He put us in contact with some West Side singers, and they in turn introduced us to others. Bobby suggested we give a multimedia presentation on West Side vocal harmony for the Asbury Park Historical Society, which we did in 2012. We've been working with the Asbury Park Historical Society ever since. Unfortunately, by the time we gave the presentation, Bobby Thomas was in the Jersey Shore Medical center with only a few days to live.
We've also written two articles on Asbury Park's West Side vocal harmony for Echoes of the Past magazine and are in the process of completing a third article.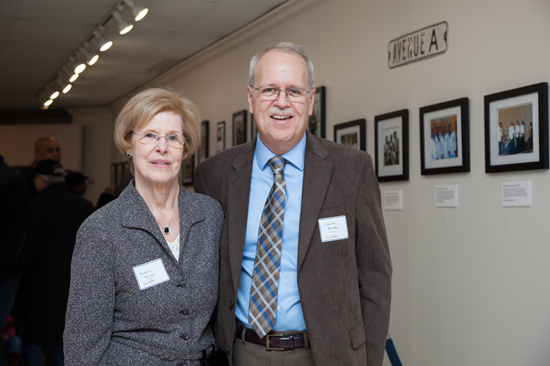 - Charlie with his wife and fellow exhibit creator, designer, and curator Pam Horner at the Monmouth exhibit's opening reception
What makes the Asbury Park West Side scene unique?
Through much of its history, Asbury Park has been a segregated city. For the first half of the 20th Century, people of color, who helped build and worked in the shore resort establishments, were not allowed to frequent them. Thus, African Americans developed their own society, west of the railroad tracks, based along Springwood Avenue.
Though Springwood Avenue was only ten blocks long, it had everything a community could want: food stores, department stores, barbershops, churches, businesses, theaters and night clubs. Such separate communities were not in themselves unique. They sprang up in most urban areas — Harlem in New York, Pennsylvania Avenue in Baltimore, Beale Street in Memphis, etc. What was unique about Asbury Park's West Side music scene was the enormous number of talented singers and musicians in such a small area. Springwood Avenue became a black entertainment zone, drawing major stars from across the country. But the backbone of the West Side entertainment industry was the home-grown talent.
Where can fans find music from these artists?
Music services such as iTunes have some Asbury Park music like Ray & the Darchaes, Lenny Welch, the Moments/Ray Goodman & Brown, etc. Stormin' Norman Seldin has a double CD [Asbury Park Then & Now] with many of the songs he produced. Of course you can find plenty of CDs by Count Basie, but most of the small combos that played Springwood Avenue never recorded.
Most of the rarer R&B vocal group songs by the Vibranaires, Vibes, Ray Dots, V-Eights, Bobby Thomas' Orioles, Endeavors, etc. can be located on YouTube.
How did you go about acquiring the photos?
Our Classic Urban Harmony Archives has amassed thousands of photos of singers and musicians over the years. On top of that, Bobby Thomas gave us many of his photos, and after his passing his family donated his memorabilia and photos to us.
One of the biggest sources of photos came from those taken by the late Joseph A. Carter Sr., the most prolific West Side photographer of the 1940s, 50s and 60s. His photos are being preserved by his daughter, Madonna Carter Jackson, who has now completed two books of his photos documenting West Side life. Joseph Carter and his daughter are national treasures.
Besides that, many West Side musicians, singers and residents have contributed their own personal photos for the display. This has been a community effort.
What condition were they in and how did you prepare them for display?
Many photos, including the ones from Madonna Carter Jackson, were in perfect condition and were just mounted, framed and used as-is. Some photos from private donors had seen the effects of age, with numerous creases, tears and fades. These were restored as well as possible using Photoshop. Pam Horner selected heavy wood black frames with white double matting, to give them a common look. Placards beneath each photo or item were written, printed, adhered to thin foam boards and hand-cut.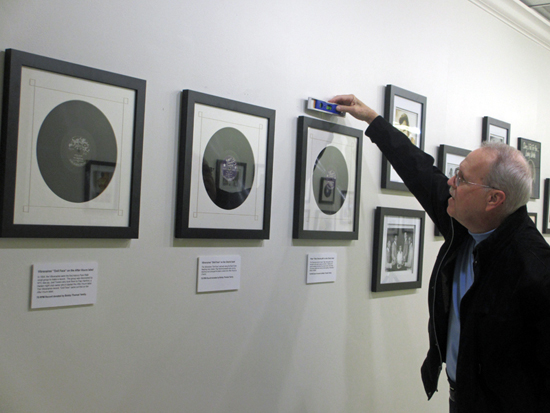 Your research for this exhibit is really impressive — how did you go about conducting this research? What were some of your informational resources?
Web research was of only marginal use here, since most of our needs were from a time before the Internet. Conducting interviews is our expertise. My 24 years on Philadelphia radio allowed me to interview hundreds of singers. We interviewed all the singers and musicians we could find, and then asked for other contacts to interview. Also, many people who came to see the preview of the exhibit during the Light of Day concert series gave us helpful contacts for expanding the exhibit in Monmouth University.
You have personal relationships with some of the musicians. Is that something you try to develop when you are working on a project?
Many researchers separate themselves from those they interview in order to remain objective. On the other hand, Pam and I try to immerse ourselves in what we're researching. Those we interview are not just subjects to us; they're people that we try to get to know. We're not out to get a story, we're out to get their story from their prospective. Do we end up becoming friends with many of the musicians and singers we meet? Of course. But we still can be objective.
How did you track down these folks?
Each case is different. We find some by Internet, but most leads come from other music friends. And many singers and musicians find us through our website www.classicurbanharmony.net or through the many events we have throughout the area. If you were involved in R&B, Doo Wop, Soul or Gospel music and you have a story to tell, we're willing to listen. Word's gotten around that the Horners are serious about — even passionate about — preserving the legacy of this music.
Have you stayed in touch with them?
Yes. We know a lot of music artists, but we try to stay in touch with as many as we can. And we publish a free email newsletter that lets about 700 of our music friends keep up with what we are up to in addition to what's going on in our field.
Are there photos/people you wanted to include in this exhibit but couldn't for lack of material?
Certainly. We'd love to find at least one clear photo of Asbury Park singing groups like the Endeavors, Ray Dots, Juveniles and others. In the jazz field, we've never found a photo of the great stride pianist, Willie Gant.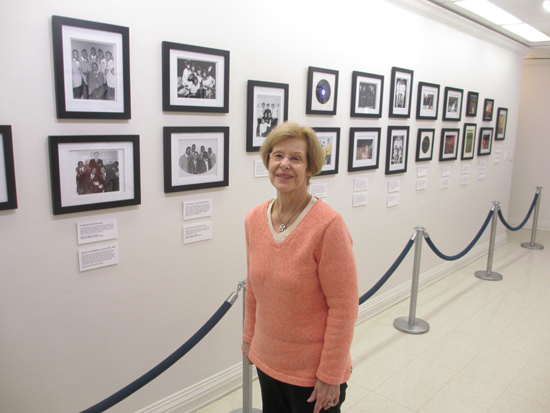 Where did the memorabilia come from?
We've been collecting music memorabilia all of our lives. Our Classic Urban Harmony Archives contains more than 50,000 phonograph records, not to mention sheet music, posters, photos, books, magazines, and more
For this exhibit we were greatly helped by donations of photos and memorabilia from Madonna Carter Jackson, the wife and family of the late Bobby Thomas, members of the gospel group the Missionary Jubilaires, Kay Harris and Don Stine of the Asbury Park Historical Society, and countless others.
Besides all the photos, we also have on display Bobby Thomas' personal guitar, the bass and Rock & Roll Hall of Fame trophy of Orioles' Johnny Reed, a vintage Missionary Jubilaires uniform and guitar, plus various original posters, fan club cards, records, etc.
Have you thought of assembling a book on this subject?
The thought has crossed our minds, but we'd need to get permission from all the photograph owners as many are copyrighted. Right now we have a number of other projects that require our time. We keep busy.
- interview by Lisa Iannucci - photographs courtesy of classicurbanharmony.net