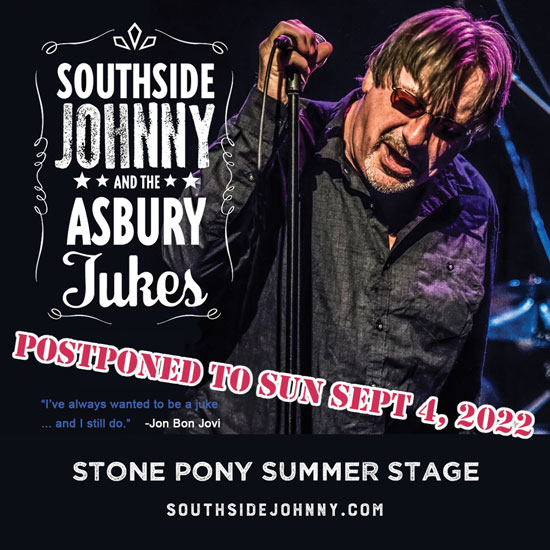 The Stone Pony had a tough call to make over the holiday weekend, postponing their annual Southside Johnny & the Asbury Jukes concert as lightning threatened the Summer Stage. The show has been rescheduled to celebrate Labor Day, rather than the Fourth of July, and tickets will be honored for the September 4 date. But that doesn't mean summer vacation for Soutshide and the Jukes — fans can catch them at other upcoming dates including Tarrytown, NY, on July 22, and the Paramount in Huntington, NY, on August 13.
And then there's their new release, Southside Johnny and the Asbury Jukes: Live in Cleveland '77, which reached #5 on the Billboard Blues chart. This Friday, July 8, Little Steven's Underground Garage (SiriusXM channel 21) will air a special dedicated to the live album. For Backstreets, Annie Zaleski talked with Southside Johnny, as well as then-Juke Tony Pallagrosi and Cleveland International Records head Steve Popovich Jr., about the new live set, performed 45 years ago for an Agora crowd Southside describes as "ready to rock. And we wanted to oblige."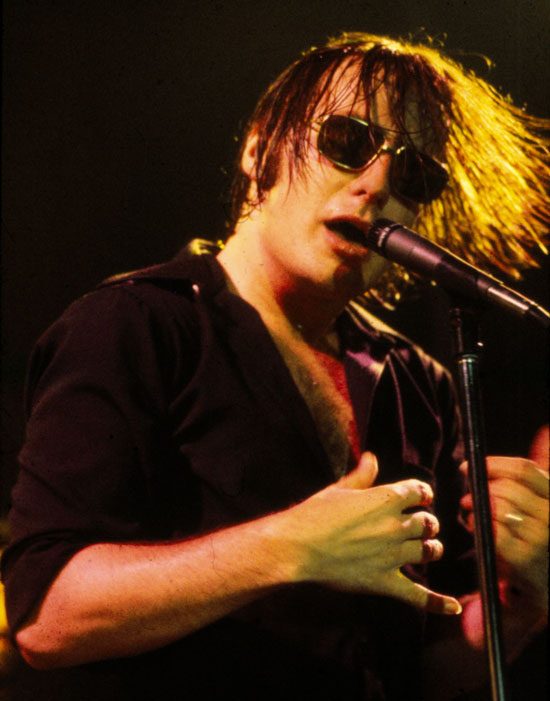 The night in question: Southside Johnny at the Agora, May 2, 1977 - photograph by Anastasia Pantsios
In June, Cleveland International Records issued Southside Johnny and the Asbury Jukes: Live in Cleveland '77 a concert recording that had been sitting in the vaults for 45 years. Recorded on May 2, 1977, at the legendary Cleveland Agora, the concert is one of three shows the Jukes did in the Northeast Ohio area that week.
The May 2 show was the first of two at the Agora—according to a vintage Cleveland Scene ad tickets were $3.50 advance, $4.50 day of show—and the band sounds at the top of their party-starting R&B/rock game. Despite being on a Monday night, the crowd is into it—which of course doesn't surprise Southside, when Backstreets reached him for a chat about the release.
"Forget about work or school tomorrow, we're playing," Southside says. "Every time the Jukes play, it's a weekend."
At the time of the show, Southside Johnny & the Asbury Jukes had just issued their second album, This Time It's for Real. The Agora show captures the hunger of this time, as well as how tight the band sounded on the new material, including the title track, as well as "Without Love" and "Love on the Wrong Side of Town."
"That's when we were out to prove ourselves," Southside says. "We were really out there to kick ass and prove that we were worthy to be on these stages. We were very intense and aggressive, but still having fun. We weren't going to have anybody sitting down if we could possibly convince them to get up and dance, singing along and all that stuff. We wanted to move people emotionally, but also physically. It was a very physical kind of music."
The Jukes horns—saxophonists Ed Manion and Carlo Novi, trombonist Richie Rosenberg, and trumpeters Rick Gazda and Tony Pallagrosi—also sounded particularly sizzling at the Agora show. That was characteristic of the section at the time, Pallagrosi says. "We all fed into each other," he says. "We all had enough of a common language to understand each other as players. And we all learned from each other. I know I learned from them."
Pallagrosi says it was formative that the horns also connected on a musical level, as they were all fans of the same sounds, styles, and artists: Motown, R&B, jazz, the catalog of Stax Records, B.B. King. "There was a common sensibility and a common language that we were all familiar with. And we were all learning at the same time. We were young."
The trumpeter has vivid memories of this particular Agora show. "As a musician, certain shows stick in your head. And usually it's because you think you played really well that night," he laughs. "You remember that. [The Agora show] was one of the nights where I did think I played really well. You don't necessarily hear everything [when you're onstage]. But it just felt really good."
When Pallagrosi went back and listened to the new archival live release, his recollection was right: He sounded good and the Jukes did too. "Johnny was a great singer," he says. "He sang his ass off on that record. Johnny is an excellent R&B singer. He's just one of the best. And on that record, you can really hear it."
Both Southside and Pallagrosi chalk up the performance quality to the caliber of the Cleveland Agora as a venue. "[It] was a great place to play," the latter says. "We played there a number of times, and I always enjoyed going back there. Cleveland was just a great town, great rock 'n' roll town." Adds Southside: "Some venues [bring] out more subtle things, [like] more ballads or midtempo [songs], but that crowd, they were ready to rock. And we wanted to oblige."
That the gig was in Cleveland indeed helped. From the very start, the Jukes had been embraced by the city's legendary rock radio station WMMS and its music director/DJ Kid Leo, meaning the band already had a built-in fanbase by the time they played the city.
"For Bruce and Steven and me, and a number of other bands from New Jersey, it was that same blue-collar, underdog feel," Southside says. "Cleveland would be made fun of [and] New Jersey would be made fun of by comedians on TV. It gives you a real, 'Oh, yeah?' You really do want to go out there and prove them wrong and rub their noses in it.
"And I think Cleveland appreciated the fact that we came from New Jersey, and that we were aggressive, but we weren't trying to be sex symbols or anything like that," he continues. "We just wanted to play rock 'n' roll. And Cleveland has always had a reputation for loving it. We connected with that audience the way they connected with us. Every time we went to Cleveland, we knew we were gonna have a good show."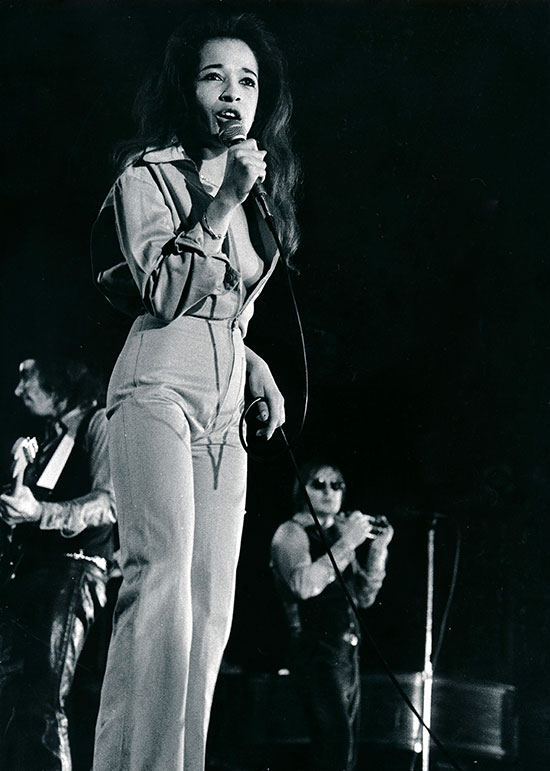 The electric Ronnie Spector on stage with Stevie Van Zandt and Southside Johnny, May 2, 1977 - photograph by Anastasia Pantsios
This particular Jukes show is notable for featuring the late Ronnie Spector, who came on stage to perform a spirited, ferocious take on her 1977 single "Say Goodbye to Hollywood" with the band. Calling her "rock 'n' roll royalty," Southside praises how "electric" Spector was on stage, among other things.
"She was one of the first to show that tough girls can make rock 'n' roll," he says. "You know, there was Wanda Jackson and a few others before that in rockabilly. [But Spector] just had that presence on stage like she was in control. A lot of people looked up to that." He includes himself and the Jukes in the category, Southside adds. "She was a real veteran of rock 'n' roll. And we needed some of that at that time. We needed to see somebody on stage that was totally unafraid, who didn't have to prove herself or anything like that. She knew who she was, and that's what you got."

Southside Johnny and the Asbury Jukes: Live in Cleveland '77 is the second release in Cleveland International Records' CLE Rocks live series, following the release of The Georgia Satellites: Lightnin' in a Bottle earlier this year. Originally founded by legendary A&R executive Steve Popovich in 1977, Cleveland International Records was relaunched by Popovich's son, Steve Popovich Jr. In the last few years, the younger Popovich examined the label's approach and philosophy and decided to pivot their focus slightly.
"We had been trying to look and sign new artists and bands, and that really just wasn't the future for Cleveland International Records," Popovich Jr. tells Backstreets. "The label is a legacy label. And, from that point, we've been treating it as such. We've created and developed the CLE Rocks live series to give people a good understanding to why Cleveland rocks and is home to the Rock and Roll Hall of Fame."
The success of the Georgia Satellites release spurred Popovich Jr. to start digging through the collection of his father, who championed acts such as Meatloaf and signed Southside Johnny & the Asbury Jukes to Epic Records.
"Saint Steve, as we called him," Southside says. "He put us on the map. He helped everybody. He was just a music enthusiast. He had his heart on his sleeve, but he worked really hard to make sure that everybody heard what he liked."
From his dad's archives, Popovich Jr. digitized "probably 50 to 60 reels of various shows" that were recorded in Cleveland. "After unearthing some of these shows, I felt that it was appropriate for [the Jukes live album] to be the second installment," he says, citing his dad's relationship with Southside and the fact Cleveland International Records issued the "Say Goodbye to Hollywood" single (featuring the E Street Band) in 1977.
"I sent the digitized version of the [Jukes] show to a few different people, just as sounding boards, to pick their brains a little bit," Popovich Jr. says. "We all agreed that it was just an incredible testament to why, again, Cleveland rocks."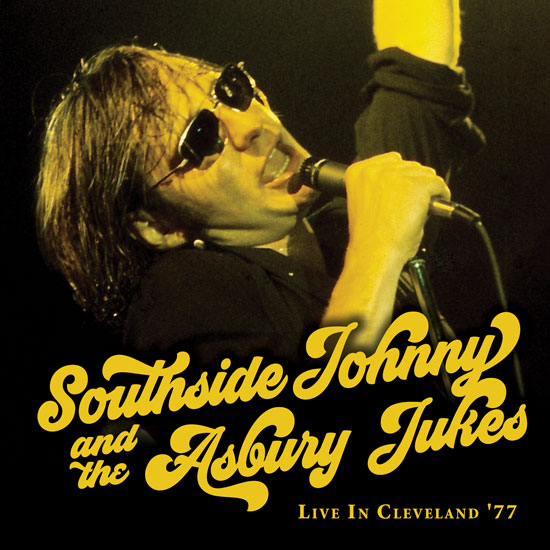 Popovich Jr. was also struck by how good the Jukes sounded. "That was in the peak of their career. You could tell they were really on their A-game. Being able to rediscover some of these old gems that we've been unearthing has been pretty incredible. Just very magical shows that you can't duplicate."
For Southside and the Jukes, they're spending the summer doing what they do best: playing live. (Their next show is July 22 in Tarrytown, New York.) While Southside Johnny and the Asbury Jukes: Live in Cleveland '77 is a time capsule of a hungry, young band, today's iteration of the Jukes is still having a party.
"I'm glad that these things were recorded, because it reminds people that we do have a history, and that there was good fun back then, too," Southside says, "And you can have good fun now."

Southside Johnny and the Asbury Jukes: Live in Cleveland '77 is out now on CD and available from Backstreet Records; Cleveland International plans a vinyl edition for release in November