BTX IS BACK!
The first thing you'll notice is that we've wiped it all clean. All old posts, threads, even usernames, are gone. This wasn't exactly by choice: corruption in the database, which brought on slow service and the eventual crash of the forums, also affected all of our backups. The only way to ensure we've knocked the problem out is to go back to a blank slate. Thanks again for your patience while we've had this patient on the table. We did everything in our power... but it just wasn't enough. Time for a rebirth. BTX is dead; long live BTX!

MY SECRET NAME
So you'll need to re-register, and we apologize for the inconvenience. With regard to usernames, an honor system is in effect: everyone should be able to reclaim their old username. (Intentionally making a "land grab" for someone else's previous username will be considered a violation of the Registration Agreement.) If there's any conflict or confusion in this area, feel free to drop Chris a line at editor@backstreets.com, and we'll do our best to resolve it ASAP. But we'll hope the honor system does the trick, and thanks for making those extra clicks to get yourself back on board.

SHEDDIN' SKIN
And there's a bright side. The BTX mindwipe, coupled with the move to a new server, should result in vastly improved performance -- with fingers crossed, we think we've seen the last of molasses-slow loading speeds or regular "critical errors." Plus, there's something to be said for a clean slate. Not a bad time to hang up any old hang-ups and start fresh.

PLAY YOUR PART
Our struggle to bring BTX back from the ashes has also driven home the fact that running this kind of service requires time, effort, and money. In the past, we've asked those who use the BTX forums to support us by subscribing to Backstreets Magazine or patronizing our online shop. And we hope you'll do just that -- we'd like to think that anyone into Springsteen enough to be on these boards would also dig the quarterly magazine we publish, or support a small, independent Springsteen specialty store. But we also understand that there are folks here who are just here for BTX, or who would like to support what we do here directly. So we've added an optional donation button, where you can easily contribute via PayPal/credit card. If you find this place of value, whether it's for ticket exchanging or chatting with like-minded (or unlike-minded) fellow fans, we'd appreciate your support. We've yet to succumb to the notion of a membership fee, but we are very familiar with the notion of time=money. Any little bit that you can offer to help out will go a long way to keeping these boards the way we always intended: fast, fun, and free.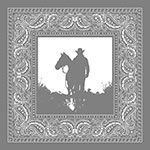 THE BOSS BANDANA RIDES AGAIN
For Bruce's new soundtrack album, a new Western Stars bandana!
Exclusively from Backstreet Records, this official promo item ships FREE with the new Western Stars: Songs From the Film compact disc or 2LP vinyl pre-order
Backstreet Records is the mailorder division of Backstreets, delivering Springsteen merchandise to fans for more than 25 years. We carry numerous collectibles, tour shirts, books, magazines, and imported CDs and records.
The world's best selection of Springsteen collectibles, all available by mail.
See all the new arrivals in our online shop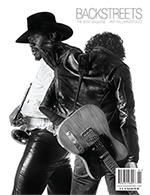 #91 IS HERE!
Our massive new issue honors a very Big Man. More than half of the 116-page, perfect bound Backstreets #91 is a tribute to the life and music of... do we have to say his name?

Full contents list


Subscribe now!


Order a single copy


Back issues