The December 2020 issue of the British music magazine Uncut features Bruce Springsteen on the cover, with a lavishly illustrated 13-page feature inside.
Titled "The Ties That Bind," the 13-page cover story features highlights from interviews with most of the E Street Band, as well as Springsteen's manager Jon Landau, on the subject of new album Letter to You. Writer Peter Watts spoke with Steven Van Zandt, Max Weinberg, Roy Bittan, and Nils Lofgren about the live recording experience and more, plus the Uncut review of the album itself (9/10). With studio images from Rob DeMartin and album cover outtakes from Danny Clinch.
A bonus CD is included with this issue, called Greetings From Uncut, G.B., styled after Bruce's first album (though there is no Springsteen content on the CD). 15 tracks including new ones from Elvis Costello, Sam Coomes, Jeff Tweedy, Drive-By Truckers, and more.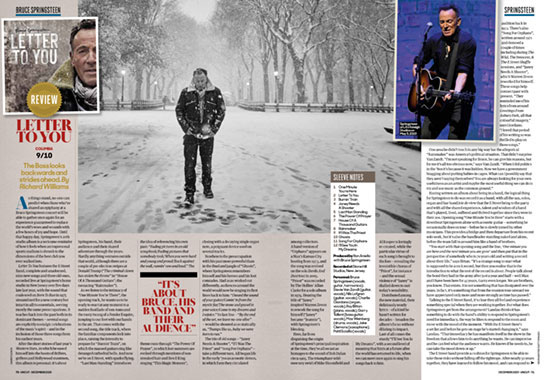 Imported from the U.K. Perfect-bound, 118pp.