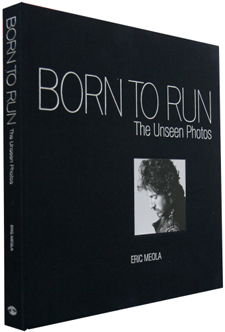 Featuring signed book and photo, quantities are limited!
Limited Edition Features:
- 1,350 numbered hardcover books, signed personally by Eric Meola
- An original photographic print, produced specifically for this edition, also hand-signed by Meola and worthy of framing. It's a 12" x 12" print titled "Elvis," a shot of Bruce with the Elvis button pinned to his jacket.
- The print is enclosed in an album-sized reproduction of the rare Born to Run "script cover," used by Columbia Records as the advance preview version of the album
- All of the above housed in a collector's cloth, clamshell case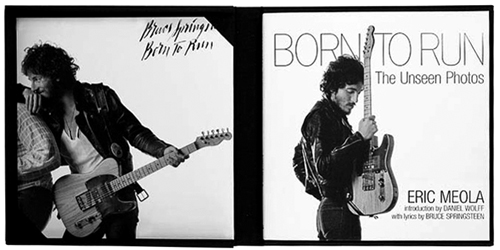 Book Description:
The Born to Run 30th anniversary celebration was highlighted by a magnificent 2006 coffee table book from cover photographer Eric Meola -- even the standard edition is now sold out and commanding collectors prices. This limited edition is even rarer. Meola's work with Springsteen continued after Born to Run (his subsequent Bruce book, Streets of Fire, collected '77-'79 imagery and is still available), but the black and white imagery of the 1975 session -- which took place in one day, and also produced a second album cover, 1995's Greatest Hits -- has stood as the most iconic of Bruce's career.
In The Unseen Photos, Meola shares the photographic alternates and outtakes from the Born to Run cover session, most for the first time, in stunning black-and-white quadratones. This 12" x 12", LP-sized book has 88 pages, with more than 100 images, plus Springsteen's complete lyrics from the album. Daniel Wolff (author of 4th of July, Asbury Park: A History of the Promised Land) contributes an introduction, and Meola himself has written a wonderful foreword to set the scene. From the publisher of Frank Stefanko's Days of Hope and Dreams hardback, Insight Editions.
The photographer is donating his share of the proceeds to the Community Food Bank of New Jersey.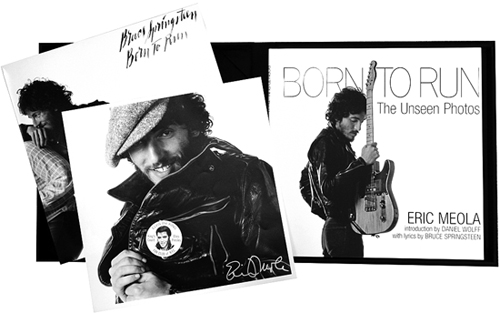 From the foreword by Eric Meola:
On Saturday, August 3rd, 1974, I was standing near the corner of Fifth Avenue and Central Park South in New York when it began to rain. I ran under the overhang of the Plaza Hotel and came face-to-face with Bruce Springsteen, who was about to do a concert in Central Park. All I can remember is that I got up the nerve to introduce myself and ask about some of the words on Bruce's album The Wild, the Innocent, and the E Street Shuffle. Unlike Greetings from Asbury Park, N.J. and every Springsteen album since then, there were no lyrics on the jacket sleeve.
Eleven days later, I rented a car and drove down to Red Bank, New Jersey, where Bruce was playing at the Carlton Theater. Mike Appel, Bruce's manager at the time, was standing out front, wearing a marine drill sergeant's hat, and, noticing the camera slung over my shoulder, stopped me. I bluffed my way in, saying I was taking pictures for Time magazine. After the show, I saw Bruce in his dressing room and while we were talking, he suddenly waved his arm in an arc behind him and invited me down to the Jersey shore. In that simple gesture, the imaginary world he had painted in his first album -- a misty paradise by the sea -- came alive....