Barry Schneier's Bruce Springsteen: Rock and Roll Future, a hardcover collection of photography and memories from a historical night in the career of Springsteen and the E Street Band.
Now SIGNED by both Barry Schneier and Chris Phillips on the title page
BRUCE SPRINGSTEEN: ROCK AND ROLL FUTURE
Hardcover, from The Backstreets Publishing Empire
9x12, with color and B&W photographs, 152pp.

Photographs and Recollections by Barry Schneier
Introduction by Christopher Phillips
Foreword by Eileen Chapman
Additional contributions from Ernest Carter, David Sancious, and Garry Tallent
In May of 1974, Bruce Springsteen performed a show with the E Street Band that is considered to be a watershed moment in his career. Having released two albums with minimal sales success, he was in danger of being dropped by his record label. Photographer Barry Schneier, having seen Springsteen perform locally in Cambridge, Massachusetts, urged concert promoters Windowpane Productions to consider booking him for a show. This recommendation would lead to Bruce and the E Street Band opening for Bonnie Raitt at the Harvard Square Theatre on May 9, a show previously planned with no opening act.
Famously in the audience that night was Jon Landau, a music critic for Rolling Stone magazine and columnist for Cambridge-based The Real Paper -- and Springsteen's producer/manager-to-be. What Landau witnessed that night, and would write about afterwards, would alter the trajectory of Bruce's career forever, as well as his own. One line in Landau's Real Paper column, perhaps the most famous concert review of all time, would reignite support for the artist as it was emblazoned in ads and repeated in the press:
"I saw rock and roll future
and its name is Bruce Springsteen."
Barry Schneier was also in attendance that night, on duty with his camera. His photographs, which remained entirely unseen for decades, are the only visual record of this storied performance. His images and personal perspective on that night comes from a point of view that no one else can lay claim to. After numerous requests to tell the stories behind the photos, Barry teamed up with Chris Phillips and The Backstreets Publishing Empire, collaborating to produce a hardcover book that will serve to be the defining record of that evening.
This 150-page, richly designed, narrative and photographic journey through the night features Barry's personal recollections along with both color and black-and-white images of the evening. Though Barry's work has since been internationally recognized and exhibited, many images in the book have never been seen before.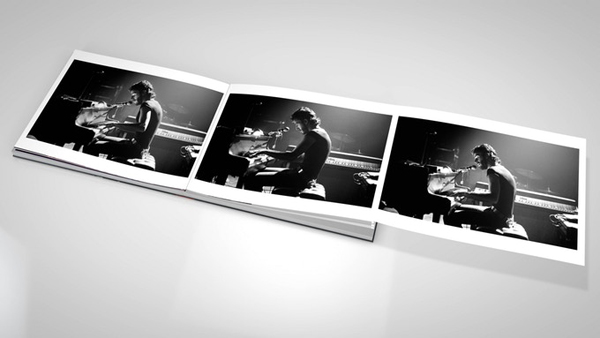 Designed by Jay Inman, the presentation includes a gatefold incorporated into the casebound hardcover, which folds out to display a triptych of Barry's "For You" piano series [above].
Also included are reminiscences from all three living members of that era's E Street Band depicted in the book: Ernest Carter, David Sancious, and Garry Tallent. Phillips, editor of Backstreets, wrote the book's Introduction, and Eileen Chapman, director of The Bruce Springsteen Archives and Center for American Music, contributed a Foreword.