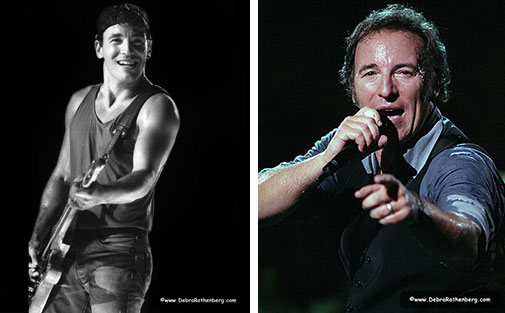 Debra Rothenberg's photographs of Bruce Springsteen will be familiar to longtime readers of Backstreets, having captured so many magical moments in our pages, on our covers, and all over our book Backstreets: Springsteen, The Man and His Music, too. Now, she has a book of her own.
In Bruce Springsteen in Focus: 1980-2012, Rothenberg captures the energy of Bruce Springsteen and his connection to audiences around the world. For thirty-two years, Debra has photographed Bruce, in small clubs along the Jersey shore, and in national and international arenas and stadiums. The power of Bruce's live performances coupled with Debra's ability to snap the right shot, brings fans more than two hundred unique and memorable photographs, chronicling her photographic journey from her first photo of Bruce in 1980 when she was a college student.
"One of the treasures of being around the Jersey Shore bar scene in the 1970s and '80s was catching a surprise appearance and jam by Bruce Springsteen. Debra was fortunate to capture many of those special moments, not just at the Stone Pony, but at other Jersey Shore night spots including McLoone's, Rum Runner in Sea Bright, and Cheers in Long Branch."
--Stan Goldstein, Author of Rock and Roll Tour of the Jersey Shore
Turn the Page Publishing, hardcover, 200 pages.