A picture book for all ages, inspired by the music of Bruce Springsteen. Written by Wendy Parnell and illustrated by Matt Hall. Signed by the author especially for Backstreets

Johnny 99 has been caught racing in the street -- again. Now he's in trouble with his dad -- again. Wanting to assert his independence and in hopes of finding adventure, Johnny 99 leaves his hometown to travel across the country. He returns home a changed car.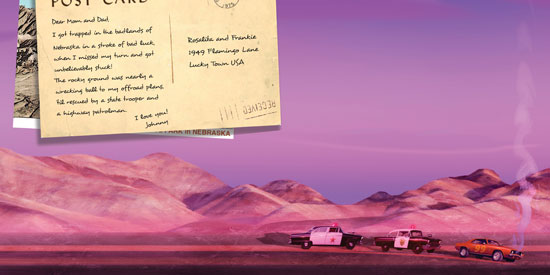 Familiarity with Bruce Springsteen's music is not a requirement for the enjoyment of this book; its themes of independence, adventure, redemption, love and family are largely universal. But for those who are Springsteen fans, there are easter eggs galore, with 99 references to his work -- including with dad Frankie, a '57 Chevy, and mom Rosalita, a pink Cadillac, who live with Johnny on Flamingo Lane.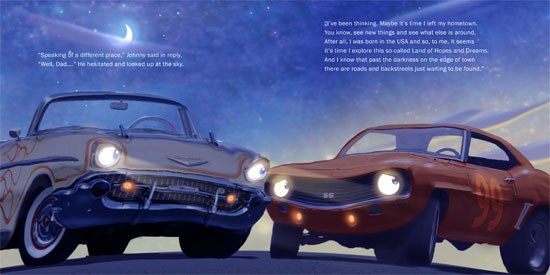 It was a quiet night in Lucky Town, the book begins.
From the factory on E Street to the mansion on the hill,
Everyone was asleep, and the town stood still.
From Thunder Road that runs the length of the town
To 57th and Tenth Avenue, there was no one around.

Wendy Parnell's first book was Musta Notta Gotta Lotta Sleep Last Night, inspired by the music of Joe Ely; she followed that up with Super Louella, based on the music of another Texas singer/songwriter, Marcia Ball. As you might have guessed, she follows her heart when it comes to writing these music-inspired books, and she's an enormous Springsteen fan. "I remember my excitement when I first came across Backstreets magazine in the early 80s," she tells us, and it's the reason this "fiercely independent" author is signing books for us and offering it through Backstreets and her own website, but not anywhere else. It's beautifully illustrated, and a great gift for any Springsteen fan.
Find out more about the author at wendyparnell.com.
Rocketstar Press, hardcover, 32 pp.