With Bruce Springsteen on "Take a Look at My Heart," first time on vinyl
After we lost John Prine to COVID-19 in 2020, Bruce Springsteen paid tribute to him as not only a friend and a "sweet and lovely man," but as "one of our greatest songwriters, a real national treasure… simply one of the best we had."
Whether you've been with Prine as far back as "Sam Stone" or you're looking for a way in to his catalog, you can't go wrong with The Missing Years -- here in its first-ever vinyl pressing, more than 20 years after the original release.
As Eric Meola put it, "Prine wrote lyrics that define what it is to be human, to be alive, and to forever be at the crossroads between laughter and despair." The Missing Years walks that line perfectly, from the goofy to the sublime in one gem after another.
Starting with "Picture Show," which features Tom Petty, the album's original 14 tracks are bolstered by a 15th bonus track for this 2LP release, the previously unreleased "The Third of July." In addition to Petty, and Springsteen's wonderful harmonies on "Take a Look at My Heart," other special guests include Bonnie Raitt, Benmont Tench, Phil Everly, and David Lindley.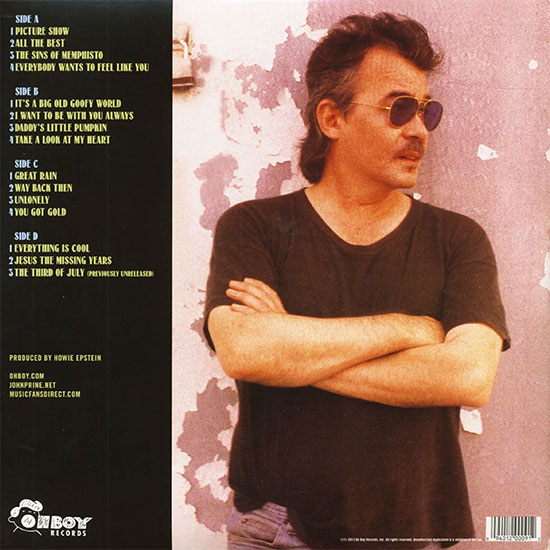 For our Prine tribute on Backstreets.com, Ryan Hilligoss provided some further background on this album:
"In May of 1991, while Springsteen was working on Human Touch and Prine was gearing up for his first studio album since '86, the two songwriters bumped into each other at a Southern California Italian restaurant. It was the day Prine got to town to get started. Springsteen told him, 'When you guys get into the record and have something to play, please invite me over. I'd just love to play guitar or harmonica or sing or whatever.'

"Springsteen wound up providing harmony vocals on 'Take a Look At My Heart,' a song Prine co-wrote with John Mellencamp, released in August 1991 on his 'comeback' album The Missing Years. The LP won the Grammy Award for Best Contemporary Folk Album. Produced by Heartbreaker Howie Epstein, the album was largely recorded at Epstein's guest bedroom studio in Los Angeles, dubbed 'Huh Sound Theater'; Springsteen reportedly recorded his vocals in the bathroom for the sake of acoustics."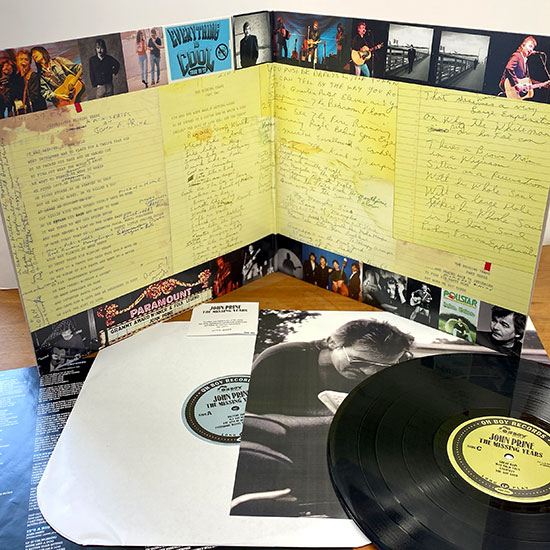 This 2013 vinyl debut is a handsome 180-gram 2LP set in a dual gatefold sleeve, with lyric/pic inserts. Bonus track "The Third Of July" is from the original album sessions.
Highly recommended? Exactlioto, Quasimodo.