Order The Legendary 1979 No Nukes Concerts from Backstreet Records and receive a FREE limited-edition cloth patch. This bonus promotional item is a shaped, sew-on patch created specifically for the 2021 No Nukes release, die-cut and embroidered with silver metallic thread to echo the album cover (by the same designer). Measures 4" wide x 1.25" tall -- great size for sewing onto a baseball cap or denim jacket, if you want to put it to use. Official promo item available exclusively to Backstreets customers.
The Legendary No Nukes is in stock now: this 2LP vinyl/B> set was released on November 19, and we're shipping them out now with the bonus patch, starting with pre-orders, in the order received.
The Legendary 1979 No Nukes Concerts from Bruce Springsteen and the E Street Band were recorded at the September 1979 MUSE (Musicians United for Safe Energy) benefit concerts at Madison Square Garden in New York City.
This 2LP set features all 13 songs performed over two nights, a composite of their two performances on September 21 and 22, newly remixed by Bob Clearmountain and remastered. The set packs the intensity of a marathon Bruce Springsteen and the E Street Band show into a crackling 90 minute run-time. Among the highlights are then-unreleased versions of "The River" and "Sherry Darling"; live staples "Badlands," "Born to Run," and "Thunder Road"; plus covers of "Quarter to Three," Buddy Holly's "Rave On," and a version of Maurice Williams' "Stay" featuring special guests Jackson Browne, Tom Petty, and Rosemary Butler.
The gatefold package includes a 24-page book with rare photos and memorabilia, an essay, and a beautiful 33" x 19" poster, showing a wider view of the cover shot. This folded poster is exclusive to the vinyl set.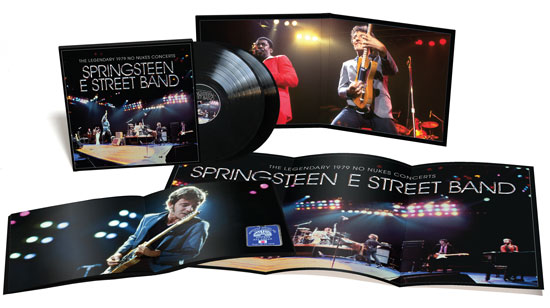 Side 1:
1. Prove It All Night
2. Badlands
3. The Promised Land
4. The River

Side 2:
5. Sherry Darling
6. Thunder Road
7. Jungleland

Side 3:
8. Rosalita (Come Out Tonight)
9. Born to Run
10. Stay

Side 4:
11. Detroit Medley
12. Quarter to Three
13. Rave On

This vinyl set does not contain the concert film; the film is included with the two other physical formats: CD/Blu-ray and CD/DVD.