List price: $31
Our price: $29

Blinded By The Light: Original Motion Picture Soundtrack brings together 12 essential Bruce Springsteen performances ranging from greatest hits and fan favorites ("Born to Run," "Dancing in the Dark," "Hungry Heart," "Because the Night") to previously unreleased tracks, most notably the long-sought-after studio recording of "I'll Stand By You." Springsteen originally offered the song to director Chris Columbus for the first Harry Potter movie; in a new recording, Springsteen's song makes its official debut over the Blinded credits and on this soundtrack.

This album also collects two live rarities: the debut live performance of "The River" from the 1979 No Nukes concerts (Madison Square Garden, NYC, 9/21/79), first released in the nugs.net live series, and the Concert for Valor's acoustic solo performance of "The Promised Land" (National Mall, Washington DC, 11/11/14), which originally aired on HBO.

In addition to the Springsteen recordings, the Blinded By the Light soundtrack also includes period tracks, dialogue from the film, and "For You My Love," a new song written for the film by soundtrack composer A.R. Rahman.

Inspired by a true story (Sarfraz Manzoor's Greetings from Bury Park: Race, Religion and Rock N' Roll) and the words and music of Bruce Springsteen, New Line Cinema's Blinded by the Light is the new coming-of-age film directed by Gurinder Chadha (Bend It Like Beckham). The film follows Javed (Viveik Kalra), a British teen of Pakistani descent, growing up in Luton, England in 1987. Javed's turbulent life amidst the racial and economic turmoil of the times is transformed when he is introduced to the music of Bruce Springsteen.

"As a lifelong Bruce fan, I am delighted how this soundtrack takes you through the experience of watching my movie with Springsteen music complemented by the other tracks, including very personal tracks -- from my dad's favorite song to a British Bhangra anthem," said writer-director-producer Chadha. "Growing up, Sarfraz and I could never have imagined a universe where all these songs would be on one soundtrack reflecting our lives."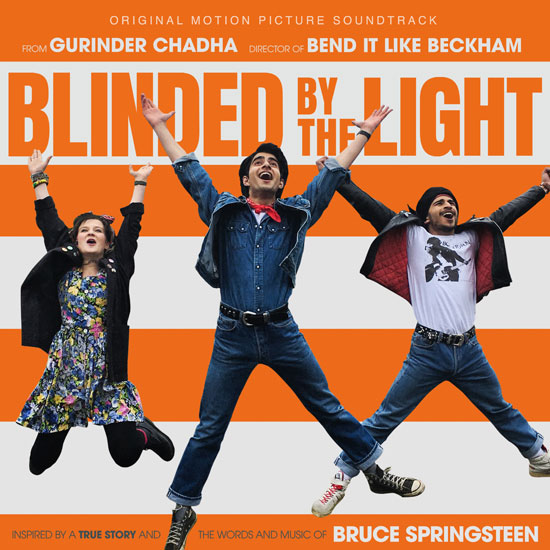 Track Listing:
Ode to Javed/Javed's Poem – A.R. Rahman
It's a Sin – Pet Shop Boys
The Sun Always Shines on T.V. – a-ha
"The Boss of Us All" (dialogue)
Dancing in the Dark – Bruce Springsteen
"You Should Be Listening to Our Music" (dialogue)
"I Never Knew Music Could Be Like This" (dialogue)
The River – Bruce Springsteen & The E Street Band (Live at Madison Square Garden, 9/21/79)
"Number One Paki Film" (dialogue)
Badlands – Bruce Springsteen
Cover Me – Bruce Springsteen
Thunder Road – Bruce Springsteen & The E Street Band (Live at The Roxy, 10/18/75)
Get Outta My Way Fascist Pigs – Amer Chadha-Patel
"Do It For Me" (dialogue)
Prove It All Night – Bruce Springsteen
Hungry Heart – Bruce Springsteen
"You, Me… and Bruce" (dialogue)
Because the Night – Bruce Springsteen
Maar Chadapa – Heera
*The Promised Land - Bruce Springsteen (Live on the National Mall, 11/11/14)
Blinded By the Light – Bruce Springsteen
Born to Run – Bruce Springsteen
I'll Stand By You – Bruce Springsteen
For You My Love – A.R. Rahman