List price: $100
Our price: $90

In stock now: This box set of CDs, released on November 17, is shipping out now starting with the earliest orders received.

Plus: all orders will receive a FREE bonus set of Asbury Park coasters (see below) exclusively from Backstreets, just an extra something to say thanks for ordering from us.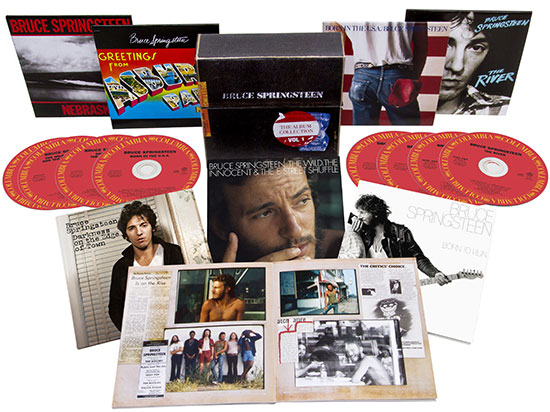 On November 17th, Columbia Records/Legacy Recordings will release Bruce Springsteen: The Album Collection Vol. 1 1973-1984, a boxed set comprised of remastered editions of the first seven albums recorded and released by Bruce Springsteen for Columbia Records between 1973 and 1984. All of the albums are newly remastered, five for the first time ever on CD.
The seven albums are recreations of their original packaging and the set is accompanied by a 60-page book featuring rarely-seen photos, memorabilia and original press clippings from Springsteen's first decade as a recording artist.
Acclaimed engineer Bob Ludwig, working with Springsteen and longtime engineer Toby Scott, has remastered these albums, all newly transferred from the original analogue masters using the Plangent Process playback system. For many more details on the remastering and the Plangent Process, see our interview with Bob Ludwig.
Albums included:
Greetings From Asbury Park, N.J. (1973)
The Wild, the Innocent & the E Street Shuffle (1973)
Born to Run (1975)
Darkness on the Edge of Town (1978)
The River (1980)
Nebraska (1982)
Born in the U.S.A. (1984)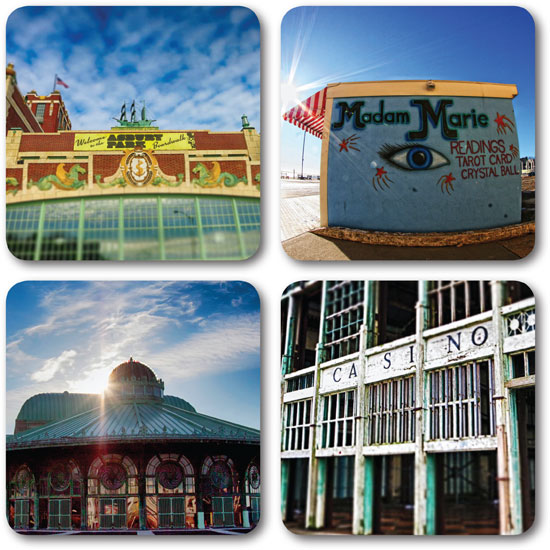 BACKSTREETS EXCLUSIVE: Every pre-ordered copy of this box set will come with this free set of four beverage coasters, just the thing as you pour yourself a drink and sit down to experience the new sound on your favorite records. With the box taking us back to Springsteen's very first album, we've put together our own Greetings from Asbury Park, teaming up with Jersey Shore photographer Mark Krajnak for four views of boardwalk life. Only from Backstreets, and only as a bonus item when you order Bruce Springsteen: The Album Collection Vol. 1 1973-1984 on vinyl or CD.