On sale: 20% OFF!
Regular price: $25
Sale price: $20


Halloween 1984: On the Born in the U.S.A. Tour, Bruce Springsteen and the E Street Band bring tricks and treats to the L.A. Sports Arena -- the show on Halloween night features Bruce wheeled out like Frankenstein's Monster before being brought to life by an electric guitar.

Halloween 2019: 35 years later, Outlaw Pete artist Frank Caruso envisions that whole spooky scene for us, with Easter eggs galore. Click here for more of the story.

Halloween 2020: It was too good to just leave as a jpeg… we're making a limited-edition concert shirt with Frank's art! Trick or treating may be largely cancelled this year, but we've got your "costume" right here.

Front design on a black T-shirt, with spooky green Backstreets logo on the sleeve: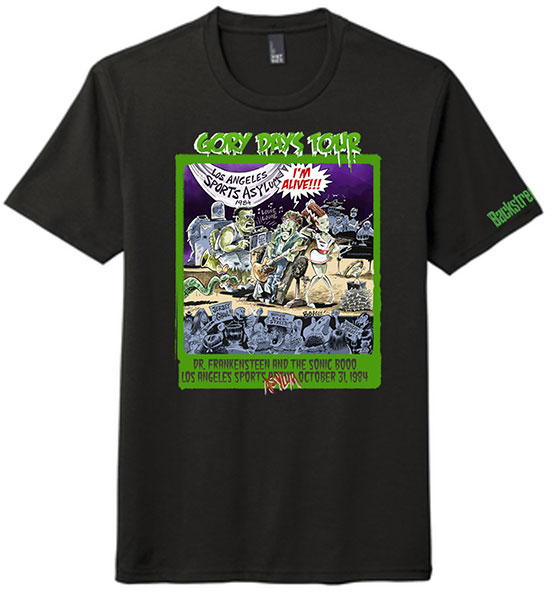 Front detail: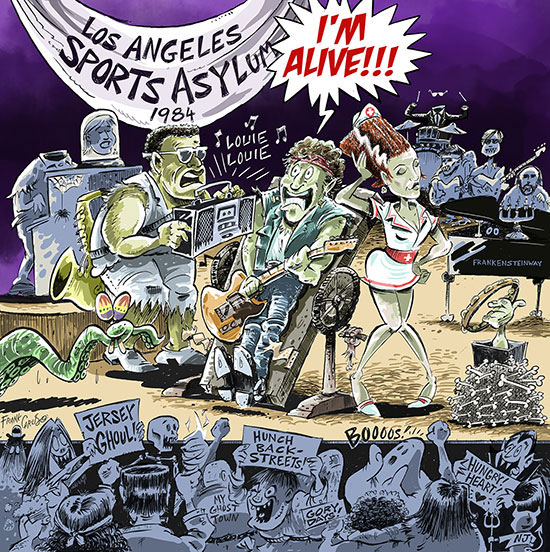 Sleeve detail:

These T-shirt images are mock-ups based on the design; final appearance may vary slightly from what is shown here. Printed on a "District Perfect Tri" Tri-Blend T-shirt (50/25/25 poly/combed ring spun cotton/rayon). Click here for sizing chart.
And if you dig his work, be sure to follow Frank Caruso on Instagram