My Guitar is a Camera. By Watt M. Casey Jr., with foreword by Steve Miller

This hardcover book is signed by Watt M. Casey Jr. for Backstreet Records customers.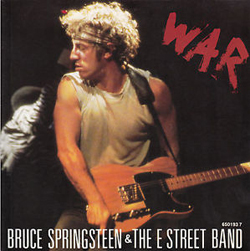 You've seen Watt Casey's photographs of Bruce Springsteen before -- on the cover of the "War" single, in the Backstreets book and elsewhere; his first book of music photography has just been published by Texas A & M Press.
A Texas native, Casey is best known for capturing the Austin scene of the 1970s and early 1980s. With the encouragement of members of his family who are lifelong ranchers and cattlemen, Watt began photographing cattle, cowboys and ranch scenes. The early 1970s soon found him in Austin, photographing countless musicians who either lived in Austin or came to Austin on tour. Thus began a career working with local and national musicians. His images have been used in local and national publications, publicity material, numerous books, albums -- multiple releases by Springsteen, Bob Dylan, Stevie Ray Vaughan, and Muddy Waters.
My Guitar is a Camera gathers stunning, historical images of musicians both local and those passing through, also including Willie Nelson, Waylon Jennings, John Lee Hooker, B.B. King, Bonnie Raitt, Townes Van Zandt, Steve Miller, Johnny Cash, Jimmy Vaughan, Junior Wells, Merle Haggard, Eric Clapton, Fats Domino, Joni Mitchell, Buddy Guy, Joe Ely, and The Band. The focus is on Texas, but the book includes a full chapter on Bruce Springsteen, with images from Red Rocks and various Texas shows beginning in 1978 (and a shot of Southside Johnny, too).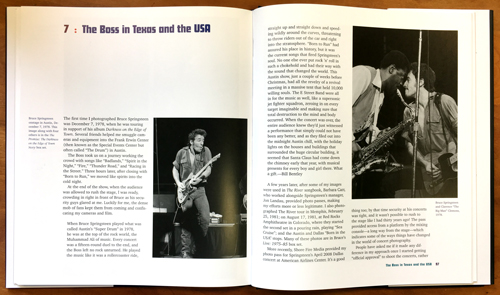 With a foreword by Steve Miller and text by Casey as well as numerous contributors, this rich visual history of the vibrant live music scene in Austin and allows Casey's lens to reveal both the stage, awash in spotlights and crowd noise, and the more intimate backstage moments, where entertainers hold forth to interviewers and friends. As Outlaw Country's cosmic cowboys mixed with East Coast rockers, Chicago bluesmen, and West Coast hippies, Watt Casey roamed at will, capturing the people, places, and happenings that blended to foster Austin's emerging reputation as "Live Music Capital of the World."
Texas A&M University Press, hardcover, 144 pp (65 color, 129 B&W photos)