By Simon Trowbridge
Bruce Springsteen is both a singer-songwriter and the leader of the last of the iconic groups of rock's golden age still operating at a peak level of passion and creativity. Like most of the great groups, the E Street Band was the product of a particular place and time, the New Jersey shore during the late 1960s and early 1970s. Asbury Park's music scene, so close and yet so far from the skyline of NYC, was a haven for young misfits with guitars who were looking for somewhere to play. The members of the E Street Band were bound by the ties of a shared history, and Springsteen remained committed to the band after he had been signed by Columbia as a solo artist. His greatest and most resonant music was written for these musicians and recorded with them.

This new book is about the recordings Springsteen made with the E Street Band and the accompanying tours. In discussing the albums, Trowbridge considers musical structure, instrumentation, themes and metaphors.

Simon Trowbridge was born in Oxford, England, in 1961 and educated at King's College, London, and University College, London; his other books include The Rise and Fall of the Royal Shakespeare Company.

2022. Englance Press, hardcover, 304pp.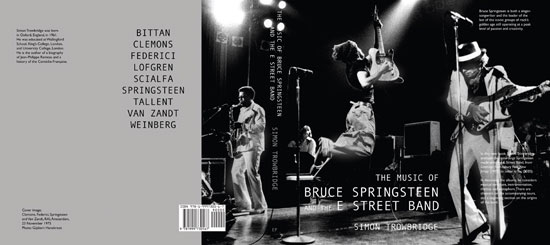 Above, the expanded dust jacket