A Backstreets Exclusive -- and we can still hardly believe it ourselves -- Unrequited Infatuations: A Memoir author Stevie Van Zandt signed bookplates for us to accompany his autobiography, and...

He signed as Miami Steve!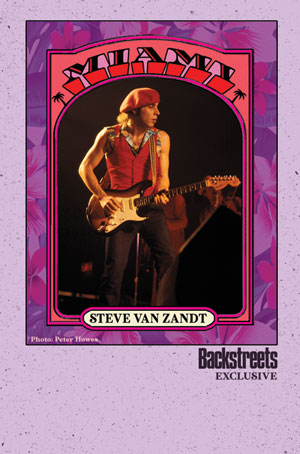 Knowing that so many of our readers go way back, with a deep appreciation for E Street history, The Artist Currently Known as Little Steven revived his '70s nickname just for us, and for this occasion only.
"Never again," we're told.
Van Zandt hand-signed his "Miami Steve" autograph on superbly designed, custom Miami bookplates, also a Backstreets exclusive.
The bookplate [shown right, near-final though subject to change] features a never-before-published mid-'70s photograph of Stevie in full "Miami" mode, down to the flowered shirt. Photograph by Peter Howes.
It almost feels unreal that he'd do this... but believe it, baby. Miami is back.
Just not Forever.
In stock now and shipping directly from Backstreet Records!
When Stevie signed "Miami" bookplates for us in the fall of 2021, he signed an extra stack to make sure we'd be able to take care of any and all damaged or lost orders. Now that all of those orders have been accounted for and issues resolved, we can offer these remaining Miami Steve-signed copies of the New York Times Best Seller Unrequited Infatuations -- available now... and for the last time ever.
All gratitude to Stevie for taking such good care of us fans (not to mention having an exemplary sense of humor and high regard for history).

The Book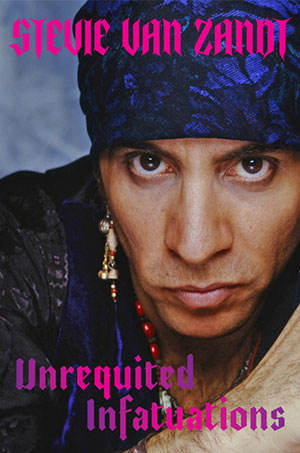 Uncover never-before-told stories in this epic tale of self-discovery by a rock 'n' roll disciple and member of the E Street Band.
What story begins in a bedroom in suburban New Jersey in the early '60s, unfolds on some of the country's largest stages, and then ranges across the globe, demonstrating over and over again how rock 'n' roll has the power to change the world for the better? This story.
The first true heartbeat of Unrequited Infatuations is the moment when Stevie Van Zandt trades in his devotion to the Baptist religion for an obsession with rock 'n' roll. Groups like the Beatles and the Rolling Stones created new ideas of community, creative risk, and principled rebellion. They changed him forever. While still a teenager, he met Bruce Springsteen, a like-minded outcast/true believer who became one of his most important friends and bandmates. As Miami Steve, Van Zandt anchored the E Street Band as they conquered the rock 'n' roll world.
And then, in the early '80s, Van Zandt stepped away from E Street to embark on his own odyssey. He refashioned himself as Little Steven, a political songwriter and performer, fell in love with Maureen Santoro who greatly expanded his artistic palette, and visited the world's hot spots as an artist/journalist to not just better understand them, but to help change them. Most famously, he masterminded the recording of "Sun City," an anti-apartheid anthem that sped the demise of South Africa's institutionalized racism and helped get Nelson Mandela out of prison.
By the '90s, Van Zandt had lived at least two lives -- one as a mainstream rocker, one as a hardcore activist. It was time for a third. David Chase invited Van Zandt to be a part of his new television show, The Sopranos -- as Silvio Dante, he was the unconditionally loyal consiglieri who sat at the right hand of Tony Soprano (a relationship that oddly mirrored his real-life relationship with Bruce Springsteen).
Underlying all of Van Zandt's various incarnations was a devotion to preserving the centrality of the arts, especially the endangered species of Rock. In the twenty-first century, Van Zandt founded a groundbreaking radio show (Little Steven's Underground Garage), created the first two 24/7 branded music channels on SiriusXM (Underground Garage and Outlaw Country), started a fiercely independent record label (Wicked Cool), and developed a curriculum to teach students of all ages through the medium of music history. He also rejoined the E Street Band for what has now been a 20-year victory lap.
Unrequited Infatuations chronicles the twists and turns of Stevie Van Zandt's always surprising life. It is more than just the testimony of a globe-trotting nomad, more than the story of a groundbreaking activist, more than the odyssey of a spiritual seeker, and more than a master class in rock 'n' roll (not to mention a dozen other crafts). It's the best book of its kind because it's the only book of its kind.
Hachette Books. Hardcover, 416pp.

"An inimitable rock 'n' roll life told as boldly as it was lived. From the stages of the biggest stadiums in the world to the politically roiling provinces of South Africa, my good friend pursued his rock 'n' roll vision with a commitment few have displayed. A must read for E Street Band fans and rock fans the world over. In this book Little Steven LETS IT ROCK!"
-- BRUCE SPRINGSTEEN
"In the New Jersey state of mind somewhere between Bruce Springsteen Stadium and The Bon Jovi Arena is a little known street called Little Steven Boulevard with hundreds of endless souvenir shops, gift stores all associated with Little Steven the Consigliere, all top level stuff, the gangster memorabilia, Little Steven wallets and handbags, bandanas and head scarfs, Little Steven glassware and coffee mugs, Little Steven flags, key chains, stickers and patches, pens and guitar picks, cardboard stand-up cut outs of Little Steven, jigsaw puzzles and buttons. You can spend a fortune on the street, listen to every song he ever played on and watch every television show that he's made, visit the underground garage and also enroll in the Little Stevie's underground college. It's all there, a lot of copies of this book as well. And just like one of Stevie's favorite songs, this book keeps you hanging on and checks all the boxes (check out the one on page 153 -- it's hilarious and there's hundreds of others). This indeed is a cautionary tale filled with outrageous humor, worldly wisdom and an uncanny sense of daring. No doubt about it, Stevie proves it time and time again he's the man to know."
-- BOB DYLAN
Unrequited Infatuations is as musical, soulful, funny, adventurous, inspiring, and real as the man who wrote it, the one and only Stevie Van Zandt."
-- JON LANDAU