List price: $29.95
Our price: $24


By Meredith Ochs
Through story, images, and removable memorabilia, Bruce Springsteen: An Illustrated Biography chronicles the life of The Boss. Springsteen's monolithic music career spans a full half-century, from 1968 to the 2018 publication of this book, and has included dozens of tours, awards, and 20 Grammys. An Illustrated Biography showcases Springsteen's life, both on and off the stage, with Ochs' text well illustrated by more than 150 photographs spread throughout, in both color and B&W.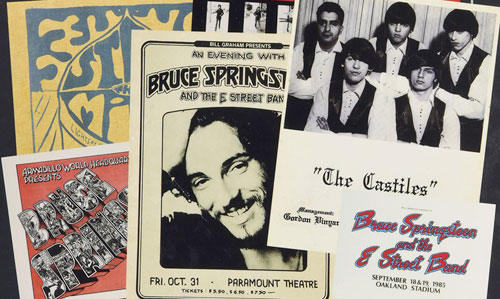 Removable reproductions (some shown above, housed in an envelope in the back) include Springsteen's draft card that saved him from being shipped off to Vietnam, a concert poster for Dr. Zoom and the Sonic Boom, a Rolling Stone magazine cover, a promotional sticker, and more, offering fans an intimate and interactive look into the life of this beloved artist.

This is an updated edition of Ochs' book The Bruce Springsteen Vault: An Illustrated Biography, featuring a new cover, an extra chapter covering Springsteen on Broadway , and a redesign of the mounted envelope to hold the memorabilia reproductions.

Meredith Ochs is a writer, radio personality, musician, photographer, sailor, and world traveler. She is a talk show host and deejay at Sirius XM and a commentator for NPR's All Things Considered. Her work has appeared in Rolling Stone, Entertainment Weekly, Guitar World, and numerous other publications. Ochs is a longtime resident of Hoboken, New Jersey, and her favorite Springsteen album is Darkness on the Edge of Town.

2018 Becker & Mayer, hardcover, 184pp.