Pre-order now!
This LIVE IN THE HEARTLAND package will be ready to ship soon -- once all the components arrive at Backstreets HQ, we'll fulfill pre-orders immediately in the order received. Pre-order now to guarantee yours!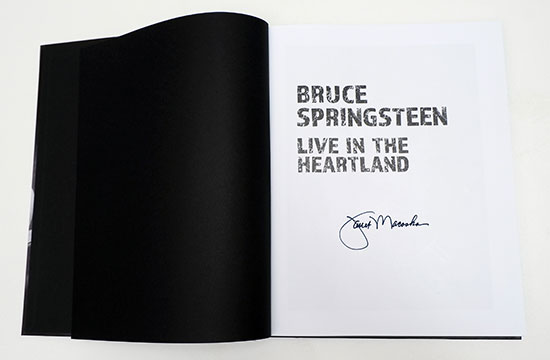 This item, Package #2, is for those who'd prefer the signature on the book itself (plus the signed bookplate too). Includes:
the SIGNED hardcover book inscribed by photographer Janet Macoska on the title page[shown above]
custom bookplate signed by Janet Macoska [shown right]
For just the book + signed bookplate, see Package #1
For the book + signed bookplate + exclusive signed 5x7, see Package #3
"Bruce would rip his heart out and give it to his audience. He put everything into his performance. He was all over the stage, and the whole rest of the band was in lockstep, complimenting that energy. It was going out to the audience in bundles. We were sending it back , too, and thatís really electric. That energy, those visuals? Photographers love that. Itís perfect to have something like that to photograph." óJanet Macoska
The Book:
BRUCE SPRINGSTEEN: LIVE IN THE HEARTLAND
Photographs by Janet Macoska
With a foreword by Lauren Onkey, fan, musicologist and Senior Director NPR Music; and text by Peter Chakerian, award-winning writer, reporter, and journalist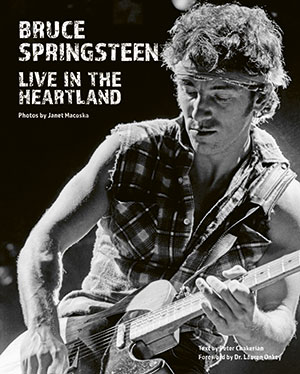 Lauded Cleveland rock photographer Janet Macoska has spent five decades photographing Bruce Springsteen in Northeast Ohio. From his early beginnings in 1974 to the iconic Born in the USA tour to the 2016 River Tour, Janet has been there with her camera capturing Springsteen's every move and mood on stage. Macoska has teamed up with journalist Peter Chakerian for her new book called Bruce Springsteen: Live in the Heartland that documents Springsteen's Cleveland history.
Janet's photographs cover multiple performances over five decades, from the Allen Theatre in '74 to Quicken Loans Arena in 2016, presented in chronological order:
ALLEN THEATRE, CLEVELAND, 1974
ALLEN THEATRE, CLEVELAND, 1976
RICHFIELD COLISEUM, RICHFIELD, 1977
TOLEDO SPORTS ARENA , TOLEDO, 1978
RICHFIELD COLISEUM, RICHFIELD, 1980
RICHFIELD COLISEUM, RICHFIELD, 1984
CLEVELAND MUNICIPAL STADIUM, CLEVELAND, 1985
RICHFIELD COLISEUM, RICHFIELD, 1988
GUND ARENA , CLEVELAND, 1999
QUICKEN LOANS ARENA , CLEVELAND, 2016
Through Macoska's lens, we witness his enduring energy on stage. Offstage, Macoska even captured backstage portraits of Springsteen with guest Ronnie Spector in 1977. This is Springsteen and the E Street Band in both black-and-white and glorious color photos, including iconic, rare, unseen, and contact sheets.

ACC Art Books/Iconic Images - hardcover - 256pp.

Sample Spreads: