In stock now!
We're currently fulfilling pre-orders in the order received and accepting new orders too.

Springsteen: Liberty Hall by Nicki Germaine is an incredible archive of the photographer's previously unpublished images of a young Bruce Springsteen and the E Street Band, taken over four days in March 1974 at Liberty Hall in Houston, Texas, onstage and off.

First edition hardcover, 10.1 x 13.1 inches
168 pages, 95 B&W and color photographs, most previously unpublished
Foreword by Bruce Springsteen
4,000 word essay by Bob Santelli
Additional essay by Garry Tallent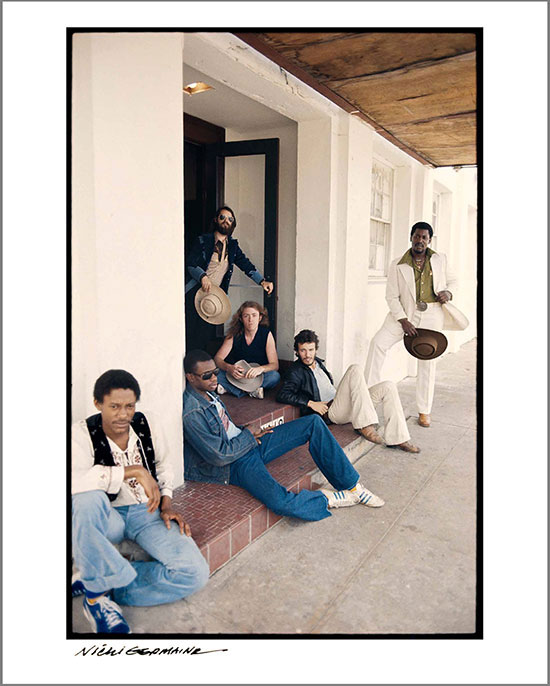 The Print
This package includes of a standout color from the book as an 8x10 print, personally signed by Nicki Germaine -- an archival pigment print on cotton rag paper, suitable for framing. Selected by Backstreets and Germaine together, this vertical image captures the entire E Street Band (Ernest Carter, David Sancious, Garry Tallent, Danny Federici, Bruce Springsteen, and Clarence Clemons) underneath the Liberty Hall marquee.
The archival pigment prints are made with the Epson P20000 printer utilizing Epson UltraChrome PRO T800 Inks and printed on Canson® Infinity Platine Fiber Rag paper.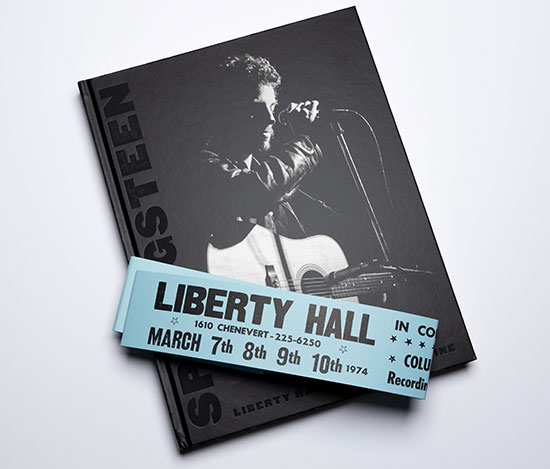 The Book
This has been a deeply personal project for Nicki. Encouraged by her partner Garry Tallent to bring these photographs to the attention of the world after they sat in storage for almost fifty years, she has pulled out all the stops for this self-published work, turning her archive of photographs from those four days in March 1974 into a physical object which will be treasured by Bruce fans the world over.
This beautiful large-format hardcover book measures 10 x 13 inches and contains 168 pages of photographs and personal recollections from Nicki, Bruce Springsteen, Bob Santelli and Garry Tallent. Bruce loved the photographs so much that he agreed to write the foreword to the book.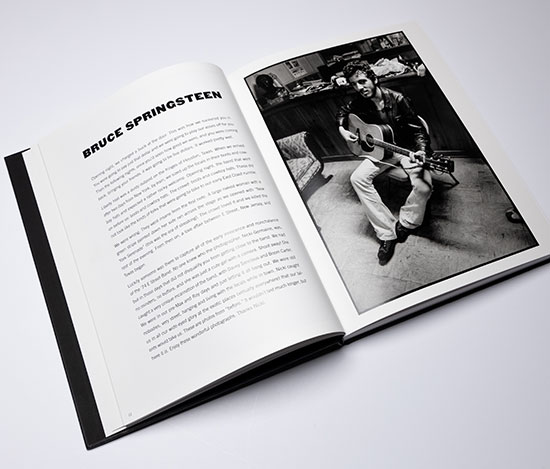 Nicki captured the band in performance, as well as off stage: candid shots, portraits of individual band members, and the band as a whole.
"Years later," Santelli writes, "Springsteen would remember Liberty Hall enough to namecheck the venue in his song 'This Hard Land." He would also recall that the shows occurred when he and the band were 'moving out of the minor leagues and into the majors. Liberty Hall and the shows that followed marked the beginning of a real turning point,' Springsteen recalled. 'It started to feel different.' Nicki Germaine's striking photographs artfully captured that 'turning point.'"
As Bruce himself writes in his Foreword: "Nicki caught us in all our wide-eyed glory at the exotic places (virtually everywhere) that our talents would take us. These are photos from 'before.' It wouldn't last much longer, but here it is. Enjoy these wonderful photographs."
To order just the Liberty Hall book, without the signed 8x10 print, click here.