Now in stock!
This hardcover book comes with an Abrams Books bookplate signed by author Brian Hiatt especially for Backstreet Records customers.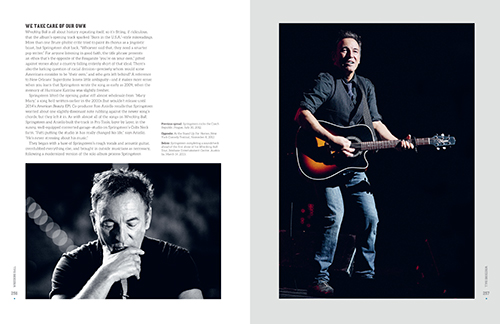 For all the muscle and magic of Bruce Springsteen's life-shaking concerts with the E Street Band, his legendary status comes down to the songs. He is an acknowledged master of music and lyrics, with decades of hits, from "Blinded by the Light" and "Born to Run" to "Hungry Heart," "Dancing in the Dark," and "The Rising." In Bruce Springsteen: The Stories Behind the Songs, longtime Rolling Stone writer Brian Hiatt digs into the writing and recording of these songs and all the others on his studio albums from 1973's Greetings from Asbury Park, N.J. to 2014's High Hopes -- plus all the released outtakes along the way.
Hiatt has interviewed Springsteen five times in the past, and he conducted numerous new interviews for this book with Springsteen collaborators from longtime producers to E Street Band members: Larry Alexander, Ron Aniello, Mike Appel, Roy Bittan, Bob Clearmountain, Danny Clinch, Cameron Crowe, Neil Dorfsman, Jimmy Iovine, Randy Jackson, Rob Jaczko, Louis Lahav, Nils Lofgren, Gary Mallaber, Tom Morello, Brendan O'Brien, Thom Panuzio, Chuck Plotkin, Barry Rebo, Marty Rifkin, David Sancious, Toby Scott, Soozie Tyrell, Max Weinberg and Thom Zimny.
Album by album, song by song, Hiatt offers a unique look at the legendary rocker's methods along with historical context, scores of colorful anecdotes, and more than 180 photographs. In all, it's an authoritative and lushly illustrated journey through Springsteen's entire songbook and career.
Abrams Books / 8.5 x 11" / 288 pages / 180+ color and b&w photos