Pre-order now!
This new hardcover book, with a bookplate signed by the authors, will be published and ready to ship to customers in October. Philippe Margotin and Jean-Michel Guesdon have both signed the custom bookplate as a special bonus for Backstreet Records customers, along with a bonus promotional bookmark provided by the publisher. Pre-order now to guarantee both freebies!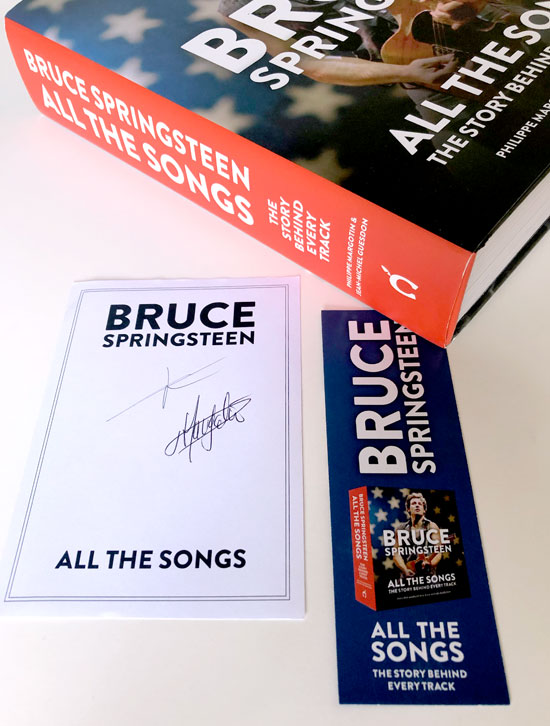 Bruce Springsteen: All the Songs: The Story Behind Every Track, by Philippe Margotin & Jean-Michel Guesdon. Cassell Illustrated/Octopus Publishing/Hachette Book Group. Hardcover, 672pp.
A new look at one of music's greatest songbooks, this is the latest entry in the bestselling All the Songs series, an in-depth exploration of Springsteen's catalog by two expert authors.
Spanning nearly 50 years of albums, EPs, B-sides, and more, All the Songs purports to cover every single song that The Boss has ever released. We must immediately note that there are holes here: yes to The Promise but no to the River outtakes from The Ties That Bind; yes to Tracks (and 18 Tracks) but no to Essential's Disc 3. That said, this enormous book remains a massive undertaking and a massive physical object, covering Springsteen releases up through Chapter and Verse and Western Stars (and including "Rhinestone Cowboy") over its 672 pages.
Moving chronologically through Springsteen's long career, authors Margotin and Guesdon set the scene for each album before taking a closer look at each song, listing recording information (players, location, date) along with thoughtful text — from the inspiration behind the lyrics and melody to the recording process. Lots of notes and sidebars are spread throughout, with illustrative photos in both color and B&W.
Philippe Margotin has written many books on music, including biographies of U2, Radiohead, and the Rolling Stones.
Jean-Michel Guesdon is a producer, musician, sound engineer, and writer. His work as a musician and composer gives him a unique insight into Springsteen's work.
Together, they have written in-depth All the Songs books on The Beatles, The Rolling Stones, Pink Floyd, and Led Zeppelin.
Note on shipping: Overseas customers, we're sorry the shipping charge runs so high; the book alone weighs nearly 6 pounds, and with International post based on weight (and rates more expensive than ever), this is simply what it costs us to ship the book.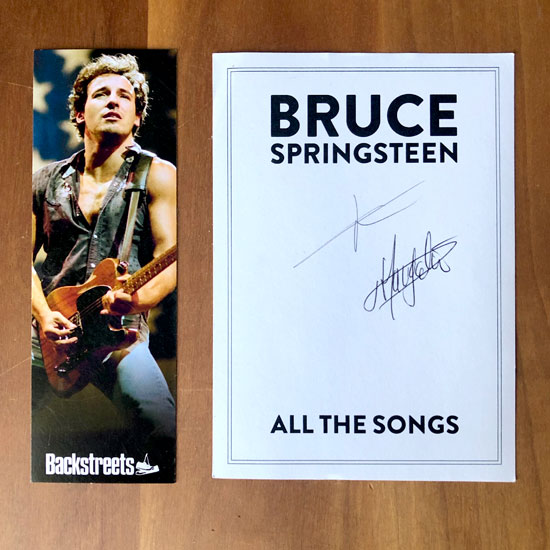 Exclusive bookmark and signed bookplate, a pre-order bonus for Backstreets customers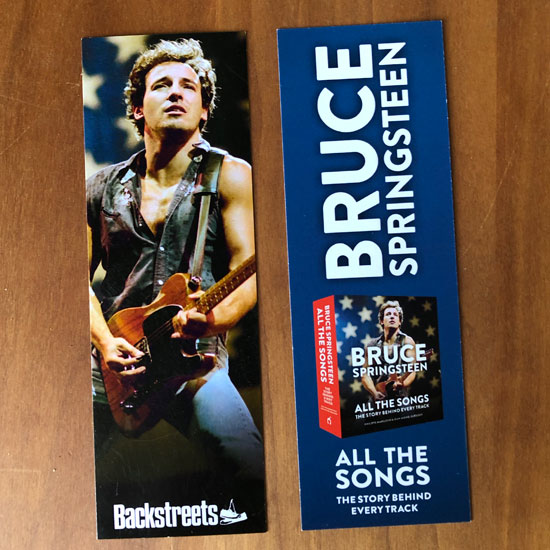 Both sides of our exclusive, promotional 'All the Songs' bookmark, free with each copy
Sample spreads: