Order Springsteen's Western Stars: Songs From the Film from Backstreet Records and receive a FREE limited edition Western Stars bandana! This bonus promotional item has text reading "Bruce Springsteen - Western Stars," framing Springsteen's silhouette in the center square, white on charcoal. Official promo piece available exclusively to Backstreets customers.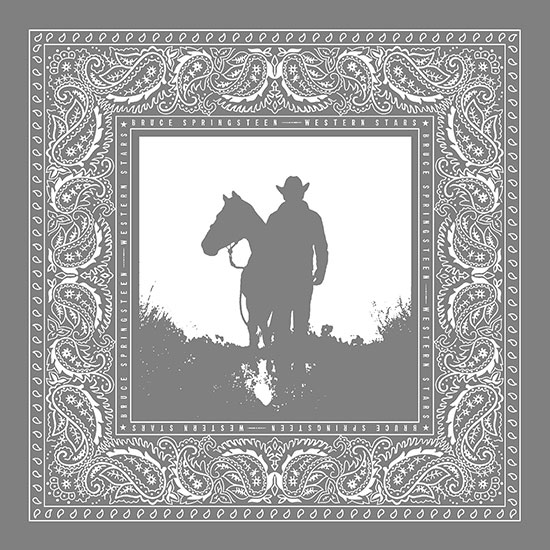 Western Stars: Songs From the Film is the companion album to the Warner Bros. feature film, featuring each of the live performances captured in Bruce Springsteen's directorial debut. The 2LP vinyl set will be released on December 13, and pre-orders will ship out immediately with bandanas at that time.
The soundtrack includes every song from Springsteen's most recent and critically-acclaimed studio album of the same name -- plus a cover of Glen Campbell s "Rhinestone Cowboy" -- performed live, backed by a full band and orchestra, recorded at Stone Hill Farm in Colts Neck, NJ.
Pulling the audio from the film co-directed by Bruce Springsteen and longtime collaborator Thom Zimny, Western Stars: Songs From The Film is produced by Springsteen and Ron Aniello. The audio was mixed by Bob Clearmountain and mastered by Bob Ludwig, the same legendary duo behind Springsteen on Broadway.
Track Listing:
1. Hitch Hikin'
2. The Wayfarer
3. Tucson Train
4. Western Stars
5. Sleepy Joe's Cafe
6. Drive Fast (The Stuntman)
7. Chasin' Wild Horses
8. Sundown
9. Somewhere North of Nashville
10. Stones
11. There Goes My Miracle
12. Hello Sunshine
13. Moonlight Motel
14. Rhinestone Cowboy
Also available on compact disc.