List price: $30
Our price: $29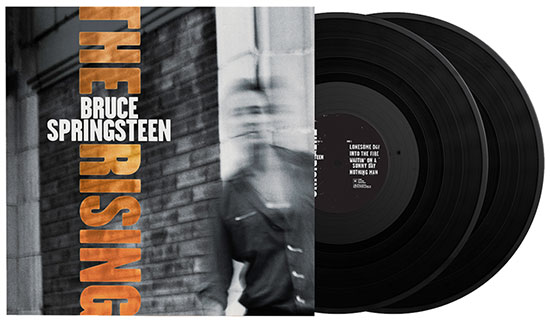 Released in the wake of 9/11, The Rising offered messages of healing and redemption with the help of all the members of the E Street Band, in studio for the first time in nearly a decade. A powerful album statement, with original studio versions of latter-day concert stalwarts including "Lonesome Day," "Waitin' on a Sunny Day," and the title track. Long out of print, The Rising will be reissued on 2LP vinyl for the first time in more than 15 years on February 21, 2020, Columbia Records/Legacy Recordings.
LP1 - Side A
1. Lonesome Day
2. Into the Fire
3. Waitin' on a Sunny Day
4. Nothing Man
LP1 - Side B
5. Countin' on a Miracle
6. Empty Sky
7. Worlds Apart
8. Let's Be Friends (Skin to Skin)
LP2 - Side A
9. Further On (Up the Road)
10. The Fuse
11. Mary's Place
LP2 - Side B
12. You're Missing
13. The Rising
14. Paradise
15. My City of Ruins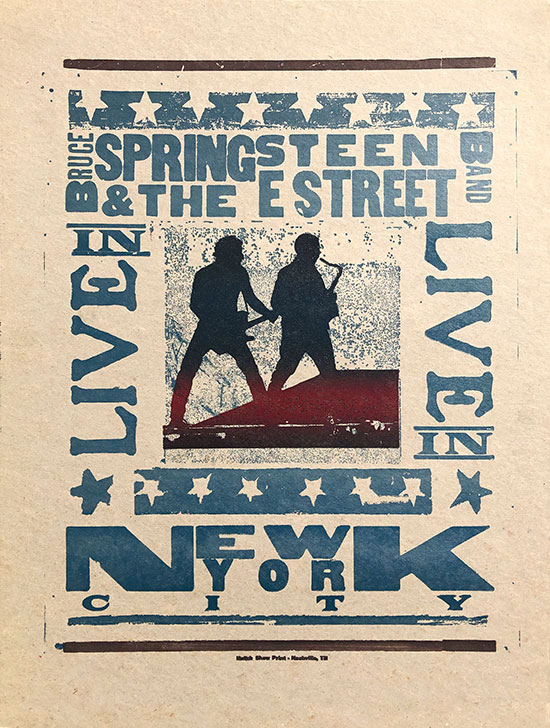 LIVE IN NEW YORK CITY LETTERPRESS PRINT GIVEAWAY!
When the one-and-only Hatch Show Print shop in Nashville created the artwork for Live in New York City using old-school letterpress print methods, they also used the same blocks to create a limited batch of proofs and posters. A reproduction of one of these posters was included in the Greetings From E Street book… but we have an original. And we're giving it away.
In honor of the long-awaited reissue of Live in New York City on vinyl, we're holding a drawing to award this original Hatch Show Print letterpress poster to one lucky Backstreet Records customer. With typical Hatch Show playfulness, these posters varied widely — in terms of ink color as well as color and type of paper stock — making each one relatively distinct. Our particular specimen is pictured above, measuring 17.5"x23"with darker ink (blue and black blended into red) on medium-weight chipboard stock.
For each title you pre-order from the batch of February 21 LP releases (Live in New York City and/or any of the other albums coming that day: 18 Tracks, The Rising, Devils & Dust, and Live in Dublin), you'll be entered once into the drawing. Order all five, and get five entries.
In order to be entered into the drawing, pre-order(s) must be placed by February 20. Drawing will take place on release day, February 21, and the winner will be announced as well as notified by e-mail.
NO PURCHASE NECESSARY for this sweepstakes: entries will also be accepted by mail. Write your name, email, phone number, and shipping address on a 3x5 notecard and mail individually for arrival by February 20 to: BACKSTREETS, 1818 MLK Jr. Blvd. #300, Chapel Hill, NC 27514. A maximum of five entries per person will be allowed, and any personal information we collect will not be shared.