Garry W. Tallent steps out again for his second solo album, singing with Springsteen on "Dirty Rotten Shame."
Autographed by Garry on the cover, especially for Backstreet Records.
"I learned how to play music by ear, and just haven't learned how to read music since," says Garry Tallent. "I would listen to the popular music of the day back then. My favorite was Buddy Holly. And I would mimic what he played on my cheap guitar." Step forward a few years later, and Garry becomes a member of Bruce Springsteen's The E Street Band. It wasn't until 2016 that Tallent decided to step out of his comfort zone and finally become his own boss with the release of his first solo album, Break Time, a tribute to the music he loved and grew up on in the '50s.
To follow Break Time, Garry has stepped forward one decade. His second solo album, More Like Me is Garry's homage to the records he loved in the mid-'60s and the garage sounds he learned by ear on his cheap guitar. Once again, Garry wrote the songs, sings lead, and traded in his bass for guitar (and sitar!). We have to imagine the '70s will be next... in the meantime, don't miss GWT's second installment, including guest vocals by Bruce Springsteen on "Dirty Rotten Shame."
Handsome packaging includes swirled colored vinyl and a die-cut cover revealing a portion of the inner sleeve.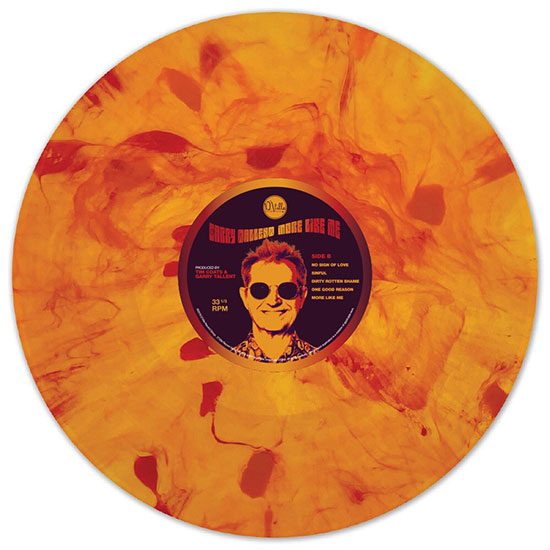 Side A:
11. Above the Rain (Tallent-Gross)
12. If It Ain't One Thing (It's Another) (Tallent-Case)
13. Oh No (Another Song) (Tallent-House-Nevin)
14. Tell the Truth (Tallent-Vincent)
15. Too Long (Tallent-House-Nevin)

Side B:
1. No Sign of Love (Tallent-Gross)
2. Sinful (Tallent-Gross)
3. Dirty Rotten Shame (Tallent)
4. One Good Reason (Tallent-McCabe)
5. More Like Me (Tallent - Lloyd)
From D'Ville Record Group, 2019. Also available on compact disc.