25th Anniversary deluxe vinyl 2LP, remastered plus six live bonus tracks
Pre-order now: This 2LP set will be released on April 29, 2022, and pre-orders will ship out immediately as soon as we receive stock, in the order received.
Joe Grushecky and his band had been a club fixture in the Northeast for nearly 25 years when they released American Babylon in 1995. The Pittsburgh band had proven themselves to be the consummate bar band, with critical raves and occasional flirtations with national success. American Babylon found them teaming up with Bruce Springsteen -- Bruce and Joe had been friends for years, but this 1995 album marked their first major collaboration, which set the stage for more rocking and writing together in the 25+ years that followed.
On American Babylon, Springsteen handles production, plays on several tracks, and co-wrote two songs for the album ("Homestead," "Dark and Bloody Ground"). In addition, Bruce went on tour with Joe and the band as an honorary Houserocker that fall (their "October Assault"), and this 25th anniversary deluxe vinyl 2LP includes bonus live tracks from that tour, recorded at an enthusiastic hometown show.
Aside from very limited run released in Europe in 1995, this is the first commercial availability of American Babylon on vinyl. The album's original 12 tracks were remastered for this 25th anniversary release.
The bonus live tracks from October 1995 were recorded at Nick's Fat City in Pittsburgh. Following the Houserockers' performance of "Only Lovers Left Alive," Springsteen is introduced on guitar for the rest of the live recordings: "What Did You Do in the War," "Never Be Enough Time," "American Babylon," "Light of Day" (with Bruce on vocals), and a cover of Little Richard's "Keep a Knockin'" exclusive to this vinyl release (not included on the 25th Anniversary 2CD set, which has additional demos and live tracks.)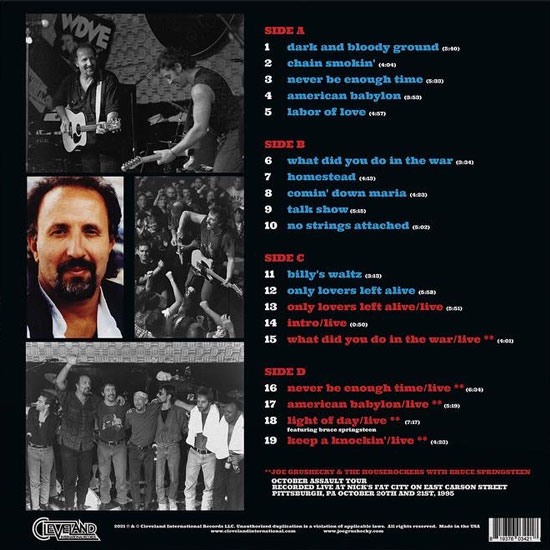 Side A
Dark and Bloody Ground
Chain Smokin'
Never Be Enough Time
American Babylon
Labor of Love

Side B
What Did You Do in the War
Homestead
Comin' Down Maria
Talk Show
No Strings Attached

Side C
Billy's Waltz
Only Lovers Left Alive
Only Lovers Left Alive (live)
Bruce Springsteen Intro (live)
What Did You Do in the War(live)
Side D
Never Be Enough Time(live)
American Babylon(live)
Light of Day(live)
Keep a Knockin'(live)

2022, Cleveland International Records