List price: $30
Our price: $28

Check it out, baby: Little Steven and his powerful 14-piece band The Disciples of Soul, performing live around the world! Includes guest appearances from Bruce Springsteen on "Tenth Avenue Freeze-out" and "I Don't Want to Go Home," as well as Richie Sambora, Peter Wolf, and Jerry Miller.

With a total running time of 213 minutes across three discs, Soulfire Live! includes 12 additional songs to the download version that was released nearly three months ago. Recorded at various unspecified locations, the first two discs of Soulfire Live! replicate a typical show from last year's tour, from opener "Soulfire" to closer "Out of the Darkness." Bonus tracks are on the third disc, the majority of which are once-only covers of songs by the likes of Tom Petty, John Lennon, and The Allman Brothers, plus tracks with those aforementioned special guests.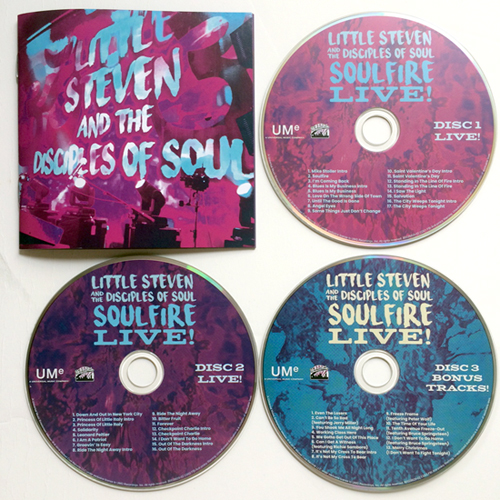 The fold-out package includes a 32-page full-color booklet packed with fan photographs, musician and production credits, and extensive song annotations by Steven. Soulfire Live! (which will also be released on vinyl) captures the exciting atmosphere of Little Steven's first tour in almost three decades and provides a musical history lesson as it switches genres from rock to soul, blues, jazz and reggae. If you were there, it's a perfect souvenir. If you weren't, it will make you want to come next time.
DISC 1 - LIVE!
1. Mike Stoller Intro
2. Soulfire
3. I'm Coming Back
4. Blues Is My Business Intro
5. Blues Is My Business
6. Love on the Wrong Side of Town
7. Until the Good Is Gone
8. Angel Eyes
9. Some Things Just Don't Change
10. Saint Valentine's Day Intro
11. Saint Valentine's Day
12. Standing in the Line of Fire Intro
13. Standing in the Line of Fire
14. I Saw the Light
15. Salvation
16. The City Weeps Tonight Intro
17. The City Weeps Tonight

DISC 2 - LIVE!
1. Down and Out in New York City
2. Princess of Little Italy Intro
3. Princess of Little Italy
4. Solidarity
5. Leonard Peltier
6. I Am a Patriot
7. Groovin' Is Easy
8. Ride the Night Away Intro
9. Ride the Night Away
10. Bitter Fruit
11. Forever
12. Checkpoint Charlie Intro
13. Checkpoint Charlie
14. I Don't Want to Go Home
15. Out of the Darkness Intro
16. Out of the Darkness

DISC 3 - BONUS TRACKS!
1. Even the Losers
2. Can't Be So Bad (featuring Jerry Miller)
3. You Shook Me All Night Long
4. Working Class Hero
5. We Gotta Get Out of This Place
6. Can I Get a Witness (featuring Richie Sambora)
7. It's Not My Cross to Bear Intro
8. It's Not My Cross to Bear
9. Freeze Frame (featuring Peter Wolf)
10. The Time of Your Life
11. Tenth Avenue Freeze-out (featuring Bruce Springsteen)
12. I Don't Want to Go Home (featuring Bruce Springsteen)
13. Merry Christmas (I Don't Want to Fight Tonight)