Pre-order now to guarantee yours, for delivery in January!
This item will not be in stock in time for Christmas, but Sing Sing Prison will be shipping us calendars shortly after New Years to fulfill all Backstreets pre-orders.
Each year, Sing Sing Prison -- "The Big House Up the River" -- prints a calendar for employees and associates. For 2022, the calendar marks the 50th anniversary of a special moment in prison history, when Bruce Springsteen and the E Street Band performed inside its walls in 1972.
Springsteen has often listed the wild variety of gigs he played in his early days, as in a 1975 interview when he recalled playing... "Everywhere. High school dances, bars, weddings... a trailer camp out in the country... the Fireman's Ball, played for the Boy Scouts once, did every kind of gig. High school dances, clubs, anything, we did it. Played in the mental institutions for the patients, everything."
And that included December 7, 1972, for the inmates of Sing Sing Prison in Ossining, NY.
Photographer Eric Meola had been particularly interested in this show after coming across several reviews of the early Springsteen gig, and in 2011 for Backstreets magazine he got then-manager Mike Appel talking about the gig, which took place just a month before the release of Greetings From Asbury Park, N.J.
We knew that we had to start promoting, and so I said to myself, "How can we promote?" Somewhere in my day I ran across something about doing a concert in an unusual place... and it struck me: prison. Why don't we do a concert in a prison? Maybe I thought of Johnny Cash and Folsom Prison... but I wasn't thinking of doing a recording there, just a concert. Sing Sing was something I knew from the movies and the news. I finally got in touch with the warden's office, and they liked the idea.... We had to go through all this security, but we went!
In addition to speaking with Appel, as Meola continued to be fascinated with the Sing Sing story he also contacted the prison's historian, Arthur Wolpinsky, to get more details -- which would lead to the use of his photos in the calendar to mark the 50th anniversary of the concert.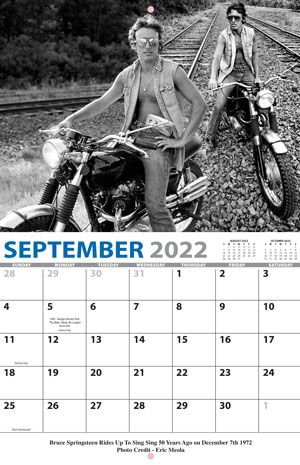 Wolpinsky, who has been employed at Sing Sing since 1971, worked with Meola to select two of Eric's Springsteen photographs to be part of the 2022 calendar as a unique composite.
The shots of Bruce on the railroad tracks resonate, as Wolpinsky's son Adam explains, "since Sing Sing is nestled in between the Metro North Hudson line. If you are riding the train up from Grand Central Terminal, right before you reach the station at Ossining, look out the window and you can see a couple hundred yards of barbed wire lining the tracks."
There's more of the Sing Sing story to tell… and we look forward to putting Meola's research to use next year to celebrate the 50th. But for now, at the 49-year mark, we're weirdly excited to be able to offer the official 2022 calendar from The Big House Up the River that will mark the Semicentennial.
Bruce Springsteen is Mr. September in the new calendar, to coincide with his birthday; other months, as usual, depict different historical views of the prison, its employees, and visitors. On the music front, November commemorates another 1972 performance at the prison, by B.B. King and Joan Baez.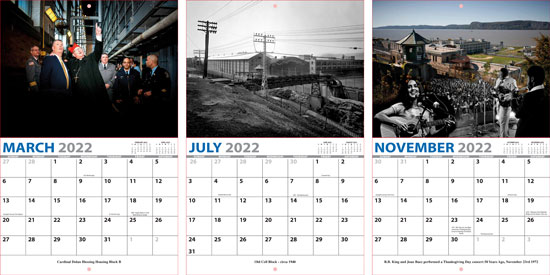 Wall calendar measures 11 x 8-1/2, opening up to 11x17. Calendar runs from January 2022 through January 2023, with a History of Sing Sing Prison on the back.