List price: $25
Our price: $24

Roy Orbison's renowned televised comeback concert -- a 1987 performance with Bruce Springsteen and other famous friends in Los Angeles -- turns 30 this year, and it's getting some special anniversary treatment. Sony Music's Legacy Recordings has teamed up with Roy's Boys LLC, the Nashville-based company founded by the late icon's sons to administer their father's catalog and safeguard his legacy. Together, they are releasing Black & White Night 30, a re-imagined, re-edited, remastered and expanded version of the original television special, a two-disc set (1CD/1Blu-ray).

By the mid-1980s, Orbison had been out of the limelight for quite some time, but his song "In Dreams" was prominently featured in David Lynch's landmark 1986 film Blue Velvet and helped reignite interest in the "Big O." On September 30, 1987, Orbison, then 51, staged a remarkable comeback with the help of guest musicians whom he had influenced -- Jackson Browne, T Bone Burnett, Elvis Costello, k.d. lang, Bonnie Raitt, J.D. Souther, Springsteen, Tom Waits and Jennifer Warnes -- and backed by Elvis Presley's TCB Band (James Burton, Glen D. Hardin, Jerry Scheff, Ron Tutt). The all-star concert at the Ambassador Hotel's Cocoanut Grove nightclub was turned into a television special and broadcast as Roy Orbison & Friends: Black & White Night on Cinemax the following January, less than a year before the icon's untimely passing.

Black & White Night 30 is not a reissue. Because the concert had been shot using seven separate cameras, there were hundreds of hours of footage that went unused and unseen. Roy's youngest son Alex Orbison and his co-editor Luke Chalk have gone back and re-edited the entire performance so that while the look will be familiar to those that have seen the original version, the vast majority of footage in Black & White Night 30 has never been seen before by the public. Furthermore, the program has been restored to reflect the correct set order.

Bonus performances include a previously unseen alternate version of Orbison's biggest hit "Oh, Pretty Woman," a previously unseen "Blue Angel," and a five-song post-show set presented here for the first time on audio and video. Unbeknownst to just about everyone but those that were there in 1987, Roy and friends and the full band re-gathered onstage after the show had ended and after the audience had left. A "secret concert" of five songs followed: alternate takes of "Dream You," "Comedians," "Candyman," "Claudette," and "Uptown," with shooting stopped only after film ran out in the middle of the latter song. These "secret" performances have been highly sought after by fans for decades.

Also included on the Blu-ray is a brand new 33-minute mini-documentary consisting of rehearsal footage and pre- and post-show interviews with Springsteen, Costello, lang, Raitt, and Browne from that night. Absolutely none of this content has ever been released commercially, and until recently, has only been rumored to exist.

New packaging includes liner notes written by Roy Orbison Jr. All tracks, including the "secret concert" alternate versions, have been freshly remastered by Richard Dodd. The Blu-ray includes the Black & White Night concert as well as all bonus features; the accompanying CD presents the 19-song Black & White Night concert, with an included download code providing access to the "secret concert" audio files.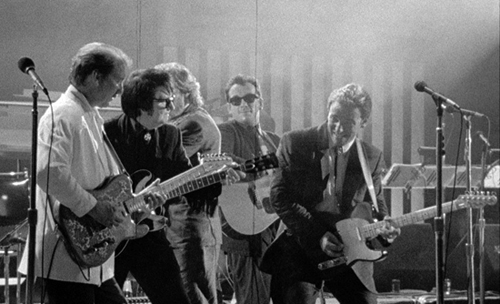 BLU-RAY
1. Intro
2. Only the Lonely
3. Leah
4. In Dreams
5. Crying
6. Uptown
7. The Comedians
8. Blue Angel
9. It's Over
10. Running Scared
11. Dream Baby (How Long Must I Dream)
12. Mean Woman Blues
13. Candy Man
14. Ooby Dooby
15. Blue Bayou
16. Go! Go! Go! (Down the Line)
17. (All I Can Do Is) Dream You
18. Claudette
19. Oh, Pretty Woman (ALT version)
20. Oh, Pretty Woman

Bonus Secret Post Show
21. Secret Show Intro
22. (All I Can Do Is) Dream You
23. The Comedians
24. Candy Man
25. Claudette
26. Uptown
27. Credits

Bonus Content
28. Mean Woman Blues (Rehearsal)
29. The Comedians (Rehearsal)
30. Blue Angel (Rehearsal)
31. Blue Bayou (Rehearsal)
32. Candyman (Rehearsal)
33. It's Over (Rehearsal)
34. Interview Break
35. Running Scared
36. (All I Can Do Is) Dream You (Rehearsal)
37. Uptown (Rehearsal)
38. Dream Baby (Rehearsal)
39. I've Got An Idea Ð Bruce Springsteen
40. Photo Gallery

AUDIO CD
1. Only the Lonely
2. Leah
3. In Dreams
4. Crying
5. Uptown
6. The Comedians
7. Blue Angel
8. It's Over
9. Running Scared
10. Dream Baby (How Long Must I Dream)
11. Mean Woman Blues
12. Candy Man
13. Ooby Dooby
14. Blue Bayou
15. Go Go Go (Down the Line)
16. (All I Can Do Is) Dream You
17. Claudette
18. Oh, Pretty Woman (ALT Version)
19. Oh, Pretty Woman

AUDIO DIGITAL DOWNLOAD (included)
Bonus Secret Post Show
20. (All I Can Do Is) Dream You
21. Comedians
22. Candy Man
23. Claudette
24. Uptown