Save 10% with our new release sale price:
List price: $19.99
Our price: $18

Order now for a FREE bookmark: In addition to the above discount, everyone who orders this softcover edition from us will also receive a Born to Run bookmark (front and back pictured above), a promotional item provided for us by Simon & Schuster.
PLUS, if you order by noon on September 15, you'll have a chance at 1 of 20 Springsteen-signed bookplates (see below).
The 2017 paperback edition of Bruce Springsteen's bestselling memoir, originally released in hardcover in 2016. "Both an entertaining account of Springsteen's marathon race to the top and a reminder that the one thing you can't run away from is yourself" (Entertainment Weekly), Born to Run is much more than a legendary rock star's memoir. This book is a "a virtuoso performance, the 508-page equivalent to one of Springsteen and the E Street Band's famous four-hour concerts: Nothing is left onstage, and diehard fans and first-timers alike depart for home sated and yet somehow already aching for more" (NPR).
Rolling Stone calls Born to Run "an utterly unique, endlessly exhilarating, last-chance-power-drive of a memoir." Rarely has a performer told his own story with such force and sweep. Like so many of his songs, Bruce Springsteen's autobiography is written with the lyricism of a singular songwriter and the wisdom of a man who has thought deeply about his experiences.
Simon & Schuster, softcover, 528 pages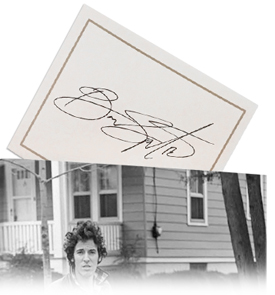 Order from Backstreets for a chance at an autographed bookplate!
Thanks to Simon & Schuster, we've got some serious "golden tickets" we'll be slipping into Born to Run softcovers as a bonus as we ship them out. We have 20 bookplates signed by Bruce Springsteen specifically for Born to Run to give away. These are hand-signed, of course, and the same bookplates they used for the hardcover; adhesive backing is still on, so lucky recipients can choose whether to affix it here or on a hardcover edition.
Order before Friday, September 15, at noon Eastern for a chance at one of these 20 bookplates. We'll be inserting them into packages completely at random (using a random number generator) as we begin fulfilling orders. Your odds depend on how many orders we receive for the softcover before the 9/15 deadline -- if 40 people order, you've got a 50/50 shot; if 400 people order, it's a five percent chance -- but that's a healthy number of autographs to give away no matter how you slice it. Order the Born to Run softcover now: 20 golden tickets await!